Elite Schools Don't Protect Teens From Drug Use
Michelle wishes she could afford to send her son to a better school. The public school system in her city is known for its poor test scores, poor budget, and poor…everything. Michelle knows the statistics aren't in her teen's favor. She's afraid he'll end up hooked on drugs and have little chance of a healthy future. If only she could enroll him at a private school to give him a better shot!
Michelle's thinking is common. Parents with teens who attend "rough" schools often believe their child would be better off in some elite prep school where drugs aren't rampant and every student is destined for ivy league schools and a successful career.
Here's the problem: this thinking may be way off base.
While there are some advantages to attending an elite school, researchers found that teens who attend them are not less likely to use drugs. In fact, they discovered teens from top high schools are more likely to battle substance abuse issues than other kids.
A Look Inside the Hallways of Addiction
Researchers studied upper middle-class youth in affluent communities in the Northeast US. They documented the frequency of alcohol and drug use and the diagnoses of abuse and dependence by the time the teens reached early adulthood.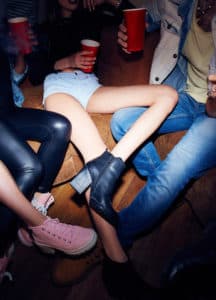 One might think the "privilege" these students enjoyed in high school would protect them from the dangers of substance abuse, but researchers found the opposite to be true. The rates of addiction to drugs or alcohol among this group were two to three times higher than national norms. Between 19 and 24 percent of the females struggled with chemical dependency by the age of 26, as well as 23 to 40 percent of the males.
Research team leader Suniya Luthar of Arizona State University stated, "We found alarmingly high rates of substance abuse among young adults who we initially studied as teenagers. Results showed that among both men and women and across annual assessments, these young adults had substantial elevations, relative to national norms, in frequency of several indicators — drinking to intoxication and of using marijuana, stimulants such as Adderall, cocaine, and club drugs such as ecstasy."
What could possibly explain this elevated risk? Shouldn't these teens be buffered from substance abuse by their affluent surroundings? Apparently not.
Researchers suggest several contributing factors for the increased substance abuse, such as:
Widespread peer approval of substance use
False sense of security for parents
High pressure for these teens to succeed
Ease in acquiring drugs
Large amounts of disposable income
No One's Above the Risk
Previous research revealed the risk of substance abuse among children growing up in chronic poverty. As a result, public health officials and policy makers worked to figure out how to minimize risks and foster resilience among these children.
Luthar explains, "We now need the same dedicated research on kids who grow up in pressure-cooker, high achieving schools. Paradoxical though it may seem, these ostensibly privileged youth, many of whom start experimenting early and often with drinking and drugs, could well be among the groups at highest risk for alcoholism and addiction in adulthood."
We can't assume children of privilege are "above the risk." Now that we know these kids are at a high risk, we must take steps to address the factors pushing them toward chemical dependency.
Additional Reading:   7 Addiction Myths About Teens and Their Parents
Image Source: iStock