Eat Up: 7 Super Foods to Support Recovery
Some believe a person in early recovery should splurge on junk foods, fats and sweets. But why fight two dragons when slaying one is enough?
Taking care of yourself should involve addressing both your mental and physical health. It is important to take care of your overall health as you work on your recovery from the use of drugs or alcohol. If you are concerned about your recovery, if you think you might be running the risk of relapse, don't wait—reach out to one of our admissions navigators today. Call to receive the information and support that you need as you continue your efforts toward overall health and wellness.
Addiction and Nutrition
Substance abuse directly affects basic nutrition and wellness…and not in a good way.
Alcohol impedes the body's ability to absorb nutrients, opiates affect digestive health and stimulants suppress your appetite, resulting in vitamin deficiencies. Instead of picturing a healthy diet as another dragon to slay, look at eating well like it's an extra sword to fight the same dragon.
The Power of Food in Recovery
These nutrients also play a key role in proper brain chemistry, which affects mood. An unhealthy diet that continues to negatively affect this mood is unwise. Since true recovery is a restoration of mind and body, these seven foods can be immensely beneficial to your overall health in recovery.
Poultry and fish contain an amino acid called tyrosine. Drugs and alcohol prevent your body from processing tyrosine correctly. This amino acid is essential in the creation of the neurotransmitters dopamine and norepinephrine, which promotes mental clarity and a sense of well-being.
Tofu is an easy-to-digest, protein-packed food that can help repair liver damage. Alcohol overloads your liver with toxins, but tofu assists your liver to slowly recuperate. Although any protein will engage liver function, the liver doesn't produce bile to break down any fat with tofu, allowing it to slowly heal.
Bananas contains tryptophan, another amino acid that's not processed correctly when using drugs and alcohol. Tryptophan is essential in the formation of the neurotransmitter serotonin, which promotes relaxation and proper sleep.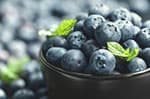 Yogurt is full of probiotics. Alcohol and opiates disrupt your gastrointestinal system, which is why constipation and diarrhea are common. Probiotics will help normalize the digestive tract.
Blueberries are jam-packed with antioxidants. Although many fruits and vegetable contain antioxidants, blueberries are specifically beneficial. During addiction, your body is overloaded with toxins and free radicals that can reek havoc. Antioxidants help boost your immune system to clear these toxins.
Vegetables, in general, contain a range of essential vitamins. During active addiction, improper nutrition absorption, along with a poor diet, causes malnutrition, but a vegetable-rich diet helps to restore proper nutrition levels. Vegetables will also help to improve skin and hair health, which commonly deteriorates during active addiction.
Whole grain pasta, and other fiber-rich foods, will help restore your digestive system. Much like probiotics, a diet high in fiber can jump-start your body's digestive health, which may have suffered while using.
Additional Reading: Understanding Nutrition in Addiction Recovery
Image Source: pixabay.com