Drink Up, Counselor: Alcoholism in the Law Profession
While I was in law school, my life revolved around alcohol. The university sponsored weekly bar tabs, study groups occurred over wine, and every Friday night ultimately turned into one big law student booze fest.
A Tradition Steeped in Alcohol
Today, even though I'm no longer practicing, I still have one foot inside the legal world. My nine-to-five largely consists of marketing to and developing relationships with attorneys, which often requires me to attend various networking events and conferences around the country. These events almost always involve copious amounts of alcohol, with attorneys hitting the bottle (hard) and letting loose late into the night.
With so much personal experience in this area, it's no surprise to me that practicing law is seen as a profession especially prone to substance abuse – the long hours, the lack of a social life, the pressure to excel. In fact, one in three practicing lawyers drink to excess, a number that's roughly five times higher than the government estimates for alcohol use disorder in the general population.
But are law firms to blame for the alarming rate of alcoholism of its attorneys?
Examining Causality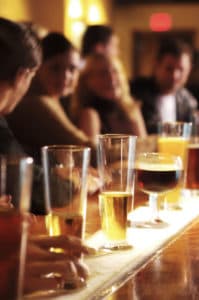 A recent article examines the issue of excessive drinking and how that's normalized within many law firms. The author cites numerous examples, such as attorneys with private bars in their offices to litigation groups that provide dinner and drinks so lawyers can work late into the night. Then there are the firms' summer associate programs, which typically involve endless alcohol-fueled events in order to entertain law school recruits over the summer months.
"There is not a law firm function that happens without alcohol," said Link Christin, a former attorney who now leads an addiction recovery program for legal professionals. "When you have these events, they essentially put a seal of approval on drinking. And there's sort of an expectation you're going to be drinking."
This culture of work-related drinking continues to thrive because alcohol and parties function as rewards for hard-working lawyers – especially those who've sacrificed much of their personal lives outside of the office.
Changing the Culture
Whereas some law firms may be part of the problem, they can also be part of the solution – if they choose to do so. To make that change a reality, addiction recovery specialists suggest that law firms:
Rework their drug, alcohol, and crisis protocols
Offer substance abuse training to all legal staff and partners
Enroll in the Lawyer Assistance Program, a free and confidential service available to those in the legal community battling alcoholism, addiction, or mental health issues. It's associated with a city's local bar association and can offer advice, as well as tips on staging an intervention.
Eliminate alcohol from some firm activities entirely and implement healthy group activities instead.
Ultimately, it's about law firms finally recognizing there's a problem and taking the steps to remedy that problem. Without doing so, substance abuse issues will continue to plague the legal profession and attorneys will continue to suffer.
Additional Reading:   Clock Out – 5 Jobs That Often Lead to Addiction
Image Source: iStock