Addiction Rehab Treatment through Dr. Phil's Path to Recovery
Leveraging four decades of experience working in addiction recovery and mental health, Dr. Phil has created a new tool for those struggling with substance abuse.
Dr. Phil's Path to Recovery uses a unique blend of technology, expertise, and treatment integration to help patients like never before: through virtual reality.
Let's talk about how it works…
The Mission: Patient Recovery
Program is designed for use by inpatient drug and alcohol rehabilitation facilities as a way to help patients "transition from rehab to the real world."
Dr. Phil's Path to Recovery isn't a stand-alone solution; it's meant to enhance current drug and alcohol rehabilitation programs, help patients confront their life struggles, and work toward real solutions. Simply put, it's another powerful tool addiction rehab treatment providers can add to their arsenals in the battle against addiction.
The program does a lot more than just help patients. It also reduces staff demands "while delivering an evidence-based therapy component to a patient's long-term recovery." Providers can use the program on an individual basis, or therapists can integrate it into their sessions.
The Mode: Virtual Reality
Embracing the latest cutting-edge technology, Dr. Phil's Path to Recovery uses virtual reality (VR) to deliver encounters with impact. Patients are given the opportunity to sit down "face-to-face" with Dr. Phil, without ever leaving the treatment facility.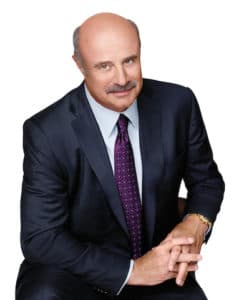 VR experiences include scenarios and settings that often trigger patients after they leave the safety, structure, and security of a rehab setting. We already know that relapse is extremely common among rehab graduates, which makes these VR practice sessions worth their weight in gold. By practicing real-world encounters that are filled with temptation, patients strengthen their ability to resist and develop coping strategies for common triggers.
Each VR encounter involves a sit-down with Dr. Phil. During these interactions, patients learn insights into their struggle with addiction and identify steps they need to take in order to achieve the sober life they deserve. Sessions are accompanied by workbook exercises; patients are asked to complete each exercise and discuss their answers with treatment center staff. This aspect helps patients focus on specific issues, then prompts them to begin re-examining their way of thinking.
Each VR "meeting" is delivered from an exclusive location and Dr. Phil's distinctive, authoritative voice provides added weight to the experience. By utilizing this form of technology,  each and every patient feels like they're having a personal sit-down chat with Dr. Phil himself. And, in essence, they are.
The Map: Where to Find Dr. Phil's Path to Recovery
Several drug and alcohol addiction treatment centers have already embraced this new program as an effective tool to augment their current offerings. As a result, Dr. Phil is now a virtual member of each team, working hand-in-hand to overcome our nation's addiction epidemic.
Currently, Dr. Phil's Path to Recovery is available at the following treatment facilities:
Contact any of these treatment centers or visit Dr. Phil's. Path to Recovery to learn more about the program.
Additional Reading:   A Virtual Reality to Curb Your Heroin Cravings
More Questions About Rehab Insurance?
Get personalized support and have your questions answered via text message.

Alternatively, you can visit our frequently asked questions page.
Recommended Rehab Treatment Articles