Doctor Shopping for Pills More Common Than You Think
The term "doctor shopping" refers to patients who seek out medical care from multiple physicians – in relatively short periods of time – in order to obtain narcotic medications. Doctor shoppers are usually seeking opiate painkillers (Vicodin, oxycontin), anti-anxiety drugs (Xanax), or ADHD medications (Adderall). And, thanks to newly published research in the August issue of the Journal of Bone & Joint Surgery, we know that doctor shopping increases among patients who undergo surgical procedures to repair broken bones.
Broken Bones and Drug Seeking Behaviors
In the new study, researchers examined the medical and pharmacy records of 130 patients between the ages 18 to 64. Each participant had previously sought treatment for single orthopedic injuries such as broken legs, ankles and arms at Nashville's Vanderbilt University Medical Center during 2011.
Breakthrough findings included:
Overall, 21 percent of the group tried to obtain prescriptions for narcotic painkillers from doctors other than an orthopedic surgeon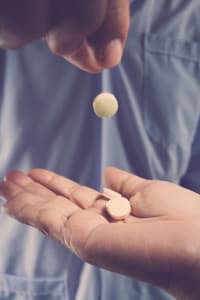 People with a low level of education are 3.2 times more likely to doctor shop
Most drug seekers are white males
People who have used opiate pain medications in the past are 4.5 times more likely to engage in the practice
The doctor shoppers used opiate pain medications for about 3.5 months after surgery, while single-provider patients used them for an average of four weeks
Many of the study participants obtained more than seven narcotic prescriptions, compared to an average of two prescriptions obtained by single-provider patients
The Scoop on Doctor Shopping
Most doctor shoppers set out to obtain prescriptions for:
Opiate painkillers (oxycontin or Vicodin)
Anti-anxiety drugs (Xanax)
ADHD medications (Adderall)
Utilizing multiple doctors to obtain narcotic medications is not only against the law, it's also extremely dangerous. In fact, a previous study found that doctor shopping significantly increases a patient's risk of fatal overdose.
Related: New Rules for Hydrocodone: What You Need to Know
Know the Signs of a Doctor Shopper
Physicians look for certain behaviors that might indicate doctor shopping activities. These include:
Paying for a visit using cash, despite having medical insurance
The patient resides in a city or county outside the doctor's office
Claims that the original prescription medication was lost or stolen
Requesting that doctors prescribe a certain brand or dosage of drug
Asking the doctor to increase the number of tablets prescribed monthly
The patient appears nervous or rushed, eager to get the prescription and exit the doctor's office
A patient is unemployed, yet he can afford to purchase expensive prescription medications
Learn more about treatment options for painkiller addiction and abuse