CVS Sets New Limit on Opioid Prescriptions
Leftovers. When we're talking about pizza or pasta, they're great. When it comes to prescriptions, they can be deadly.
Did you know millions of extra prescription pain pills are left lying around every year? Researchers at the University of Pennsylvania tracked just one type of procedure – wisdom tooth removal – and prescription painkiller usage immediately following the surgery. They found most people didn't need the pills after a few days, but doctors gave them enough to last for several weeks. An average of 15 pills remained as leftovers.
When we extrapolate these numbers to the whole country, that's more than 100 million surplus narcotics sitting around the country – from just one type of operation.
What's So Dangerous About Leftovers?
Sitting in home medicine cabinets, these unused opioids are a direct source of abuse and overdose. Consider these alarming statistics:
Roughly 6.5 million Americans abuse prescription drugs, and more than 23,000 Americans die each year due to heroin and prescription opioid use.
Of those who use heroin, 80 percent start with prescription meds.
Between 60 and 70 percent of teens who abuse drugs report a parent's medicine cabinet as their source of drugs.
Teens also report they're given drugs by a friend or relative for free.
Take Our "Am I a Drug Addict?" Self-Assessment
Take our free, 5-minute "Am I A Drug Addict?" self-assessment below if you think you or someone you love might be struggling with drug addiction. The evaluation consists of 11 yes or no questions that are intended to be used as an informational tool to assess the severity and probability of a substance use disorder. The test is free, confidential, and no personal information is needed to receive the result.
CVS Taking Steps to Curb the Epidemic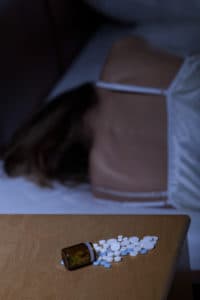 In response to these numbers, CVS is establishing a new limit on opioid prescriptions. The pharmacy will limit patients to a one week supply in hopes of reducing the number of opioids in circulation. This new policy is a drastic reduction from the average 18-day supply doctors prescribed in 2015.
The new CVS guidelines state that anyone obtaining prescription pain medication must receive:
A mandatory talk with pharmacists
Substance abuse education
Information about proper storage and medication disposal
These efforts are in alignment with previous CVS public-health-conscious policies. In 14 states, CVS has made naloxone available for purchase without a prescription and offers 1,550 kiosks where patients can dispose of any unused pills.
The chain also stopped selling cigarettes in 2014.
The plan is to put this latest policy into effect by February 2018 at all 9,700 CVS locations. They will be the first pharmacy chain to enact this type of opiate restriction.
Do you think this policy will help to end opioid abuse? Will it prevent pills from getting into the wrong hands? Or will it have the opposite effect, pushing customers to CVS competitors? Let us know what you think about the new CVS opiate prescription policy in the comments section below!
Additional Reading:   Should We Give Naloxone With Every Opiate Prescription?
Image Source: iStock