Coping With an Empty Compassion Tank
Cindy could only watch as her mom slowly destroyed herself. Again and again, Cindy got her hopes up that her mom was changing for the better. Each time, the cycle of drug abuse and depression started over.
As the only child of a single mom, Cindy felt a great burden to care for her mother. But no matter what she tried, things only got worse. After a decade of seeing her mom spiral out of control, Cindy felt helpless and hopeless. She found herself drinking more and more to cope with the stress her mother's addiction caused.
Cindy is suffering from a condition that is common among the loved ones of addicts. It is also frequently found among professionals who work in the rehab industry. The issue is compassion fatigue.
Running on Empty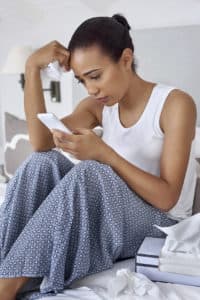 Compassion fatigue is "the sense of helplessness and hopelessness that can overtake a person providing care for someone whose suffering seems never-ending and insurmountable."
It has also been described as "the natural consequent behaviors and emotions resulting from knowing about a traumatizing event experienced by a significant other – the stress from helping or wanting to help a traumatized or suffering person."
If suffering from compassion fatigue, you may experience symptoms similar to post-traumatic stress disorder. In addition to helplessness and hopelessness, you tend to feel angry, fatigued, suffer from headaches and digestive issues, and have less ability to feel joy. It is also common for those with compassion fatigue to turn to unhealthy coping mechanism themselves – using drugs and alcohol.
Combating Compassion Fatigue
With this last consequence in mind, it is essential to find ways to fight compassion fatigue. If you have frequent contact with an addicted loved one, you're at risk. It's just that simple. Fortunately, it's not an insurmountable condition. With the right measures, you can prevent compassion fatigue and break the cycle of addiction.
If a loved one's addiction has taken you down the compassion fatigue road, the following steps can help you find a different route:
Talk it out: See a counselor. Find a support group. Get the help you need to work through your loved one's addiction. Your loved one may be the one who's abusing drugs or alcohol, but addiction is a disease that affects everyone it touches. The focus can't be solely on getting help for them. Take care of your own emotional health, too.
Expand your horizons: How much of your life is consumed by a loved one's addiction? It is essential to develop interests outside of this relationship. Cultivate new healthy relationships. Pursue enjoyable hobbies. When you broaden your horizons with additional interests, you achieve better balance – you tip the scales away from compassion fatigue.
Unburden your shoulders: Your loved one must make their own decisions. As much as you hate to see them suffer, you cannot take the pain away. They have to choose recovery. And remember, you are not alone in this struggle. Don't take the burden solely on yourself; resources are available to help you and your loved one.
Additional Reading:   We'll Never Kick Addiction Without Compassion
Image Source: iStock