Controlling the Addiction Conversation in Your Head
Jimmy
"I'm going to drink again. It's inevitable," Jimmy thought. "Who am I kidding, thinking I can have a sober life? I'll probably relapse within a month."
Guess what? Two weeks later, Jimmy beer-binged at a party and ended his 53-day sober streak. What happened? Jimmy let his negative self-talk determine his future. He created a self-fulfilling prophecy: By repeatedly saying he would relapse, Jimmy convinced himself there was no other option. His negative thinking caused negative events.
Christie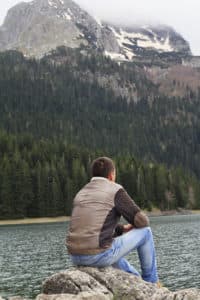 "Why even try?" Christie said to herself. "There's no way I can reach my goals. I don't have what it takes to find a job. I'm too awkward to reach out and make new friends. I don't have any talents to try anything new."
Christie needed to get control of her thoughts. Her negativity was killing her sense of self-efficacy (the belief she can succeed in a situation or accomplish a task). If she continues to let these thoughts rule her mind, they will rule her life. This build-up of self-doubt will inhibit her from reaching any kind of sobriety goals she's set.
Jenny
"They don't really want to help me; they just want to get me out of their lives. They've let me down before and they sure aren't going to help me now. I can't rely on my family and my therapist is only in it for the hourly fee. I'm alone – and I'm scared of facing this world by myself."
Jenny's self-talk is full of negativity. She is bitter about the past, resents others and isn't willing to forgive past mistakes. These are all forms of negative self-talk. As she repeatedly affirms these types of thoughts, she sinks deeper into depression, becomes more anxious about the future, withdraws from any support systems she's had and turns back to drugs. At rock bottom, Jenny only finds more of the negative self-talk that she never learned to control.
Recognize and Reverse Before Relapse
It is absolutely essential for those in recovery to recognize unhealthy patterns of thinking. This negative self-talk, also known as "stinking thinking" is capable of crumbling sobriety. Those who don't learn to 'rein it in' release daily internal ammo that shoots holes in their recovery.
Do you recognize any of these patterns of thinking in yourself or a loved one?
Additional Reading:   Self-Sabotage: Stop Standing in Your Own Way
Image Source: iStock