Can They Handle the Truth? How to Admit an Addiction to Your Kids 
He was supposed to be their leader. Their provider. Their hero. Gary's kids looked to him to protect and guide them. He wanted to be the type of father they could love and respect – look up to. If they knew the truth, his image would be shattered.
If he told them about his addiction, how could he ever look in their young faces again? How could he even begin to help them understand what was going on? They would have so many questions – and they would never look at him the same again. No, he couldn't tell them – better just keep up appearances and try to be the dad they wanted. 
Your Kids Know When Something is Wrong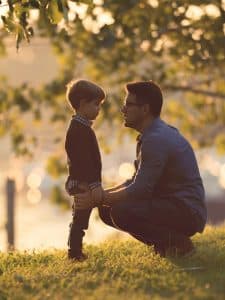 Gary's thoughts are similar to those that race through the minds of many parents who struggle with addiction. Their goal is to pretend nothing is wrong and make sure their kids never find out the truth. The problem is, this thinking is not based on truth.  
What's most likely true is that your kids already know something is wrong. Despite your best efforts, addiction affects every aspect of your life – including parenting. Kids are often even more tuned into what is going on around them than the adults in their lives. If they don't know it already, your kids will someday learn that no parent is perfect, including you.
The other truth: your kids want what's best for you, as well as a safe and orderly environment for themselves. So, the sooner you have the conversation with them about your addiction, the sooner you can start working toward a healthier family dynamic together. This is what will ultimately be best for all of you. 
Make a Plan
As you plan this important conversation with your child, keep in mind that it needs to be age appropriate. Use language and depth that your child will understand at whatever age they are. (Yes, you can speak to a child of any age about this issue.) As you approach the conversation, use the following structure to guide this difficult dialogue.  
Be honest. Choose to end all attempts to hide or deceive. Be open about your addiction.

 

Gather info. Before you speak with your child, gather information about addiction so you have all that you need to answer the questions they'll have. Remember, if you don't have an answer, it's ok to say "I don't know." If answers are available, you can follow up with "But, I will find out." or "We can learn about that together."

 

Acknowledge and ask. Let your child know that you realize your addiction has had an impact on your life and theirs. After acknowledging this, ask them how they are doing and feeling. Keep questions open-ended to encourage sharing.

 

Reassure. Let them know that no part of this is their fault. Kids tend to take more on their shoulders than they should. Assure them that they did not cause the addiction or make it worse. 

 

Offer perspective. Explain to them that they are not alone, that this is not unique. Many families struggle with addiction. 

 

Keep the conversation going. Make it clear that you are open to answering questions and talking about this again in the future. Let them know it's ok to bring it up again. Maintaining open communication with them throughout your recovery journey and beyond will encourage a healthy relationship between you and your child.

 
Additional Reading: It's True – Women Do Experience Addiction Differently.
Image Source: iStock