Bisexual Women at Greater Risk of Eating Disorders
Women who are bisexual or questioning their sexual orientation may be at higher risk of eating disorders than straight or gay women, according to a new study published in the journal Eating Behaviors.
The study also highlighted the importance of doctors screening for eating disorders, as well as asking patients about their sexual orientation.
Women, Sexual Orientation and Eating Disorders
Researchers at Drexel University surveyed more than 2,000 people ages 14 through 24 during their routine doctor visits and discovered that women who identified as bisexual or unsure of their sexual orientation were more likely than straight or gay women to report symptoms of an eating disorder.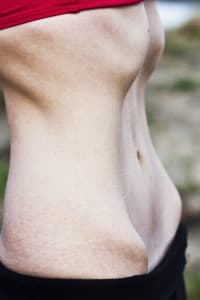 Though past studies have focused on higher risk of eating disorders among the LGBT community, this new study was the first to isolate bisexual and questioning women as the highest risk group.
"The results of this study suggest there may be notable differences in disordered eating symptoms across LGBQ persons," said study lead author Annie Shearer, outcomes research assistant for Drexel University's Center for Family Intervention Science in the College of Nursing and Health Professions.
"Given the severe physical and emotional repercussions of eating disorders, these findings underscore the need for primary care physicians to ask about both sexuality and disordered eating symptoms during routine visits."
Proving Previous Assumptions Wrong
Researchers also found no significant difference in risk among gay women than straight women. "These findings are contrary to previous assumptions that same-sex attraction plays a protective role against eating pathology in females," the study authors wrote.
Among men, the study reflected past research showing bisexual and gay men are more likely than straight men to exhibit disordered eating behaviors.
"While there is a lot of research indicating gay and bisexual men exhibit higher rates of eating disorders than heterosexual men, findings have been mixed with respect to women," said Shearer. "Moreover, bisexual and – to an even greater degree – questioning persons are often excluded from these studies."
The Continued Complexity of Eating Disorders
There is no isolated cause of an eating disorder, as they are thought to result from a number of complex factors.
Researchers couldn't explain exactly why bisexual and questioning women would be more susceptible. But previous research suggests that bisexuals face unique struggles within the LGBT community, and may be at a higher risk of substance abuse and other issues. Experts have noted that bisexuals face stigma by both the straight and gay community, which could contribute to mental health issues.
Additional Reading: Should Schools Screen Students for Eating Disorders?
Image Source: iStock