April Is Alcohol Awareness Month
Americans are drinking at a younger age than ever before and it's stretched far beyond having a few beers in the basement. In fact, drinkers between ages of 12 and 20 consume a whopping 11 percent of all the alcohol consumed in the U.S. What's more, the majority of that alcohol is consumed during binge drinking sessions.
Luckily, we have the ability to turn things around and make a positive impact in our own communities. And since April is Alcohol Awareness Month, it's the perfect time to get involved and help to prevent alcohol misuse or abuse.
What is Alcohol Awareness?
In hopes of raising awareness about alcohol abuse – and taking steps to prevent it at home and in the community – the National Council on Alcoholism and Drug Dependence (NCADD) recognizes Alcohol Awareness Month every April. In fact, 2015 marks the event's 29th year of promoting alcohol awareness.
In an effort to squash underage drinking, the NCADD's 2015 focus is placed squarely on the nation's youth. Events will be held on local, state and national levels, educating people on how to treat and prevent alcoholism among our youth. Some of those events will also be geared towards educating children about the dangers of consuming alcohol.
"As a nation, we need to wake up to the reality that for some, alcoholism and addiction develop at a young age and that intervention, treatment and recovery support are essential for them and their families," said Andrew Pucher, president and CEO of NCADD. "We can't afford to wait any longer."
Our Nation is at Risk
According to the NCADD, teens who drink before the age of 15 are four times more likely to become alcohol dependent in adulthood. The issues of binge drinking and alcoholism are certainly not limited to young people, though:
Men average 12.5 binge drinking episodes per year and 17 percent of them will meet the criteria for alcohol dependence at some point in their lives.
Women comprise about 4.6 million abusers in the U.S. and approximately 5.3 million of them drink in a manner that "threatens their health, safety and general well-being."
Roughly 80 percent of seniors seeking treatment for substance abuse are addressing issues with alcohol and not other types of drugs.
Overcoming an Alcohol Addiction
If you have a drinking problem and you're looking for help to quit, there are a number of resources available. For example, you might want to begin by:
Talking with your doctor and asking about community resources
Seeking out local therapy groups or counselors specializing in substance abuse
Searching the Alcoholic Anonymous website to find local chapters
Get Active, Get Clean
In recovery, most people experience a huge benefit from taking up physical activities like yoga or tai chi.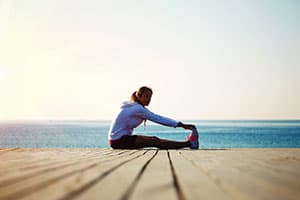 Studies have found that these arts can cultivate both body awareness and compassion. With time, they can help you develop a new ability to handle stressful situations that used to trigger the urge to drink.
Research has also shown that mindfulness-based interventions can "target clinically relevant measures of psychological, biological, and behavioral functioning, all of which are implicated in the pathophysiology of addiction."
In the end, the single most important move you can take begins with taking that first step toward recovery. Although it can be difficult at times, overcoming alcoholism ultimately instills an enormous sense of self-confidence and leads to a greater quality of life.
Additional Reading: Belly Up to the Bar and Get a Free…Pregnancy Test?
Image Source: commons.wikimedia.org, pixabay.com