Anxious and Working: Clock In, Clock Out, Drink Up
Picture this: A man in a business suit sits at the bar drowning his sorrows. He's already knocked back five double whiskey neats; he's getting started on number six. Not more than an hour ago, he was fired by his boss due to downsizing, so he lifts his glass and offers up a toast to his new-found unemployment.
It's a stereotype that many still buy into: Employed people don't drink; unemployed people hit the bottle.
Thanks to recent research, however, we now know this is an image that's no longer accurate. In fact, most of the people drinking at local watering holes are still employed…and they're really anxious.
Happy Hour isn't Very Happy
A recent study looked at the lasting effects of the economic downturn our country experienced back in 2008, specifically examining alcohol use among people who remained employed during this period.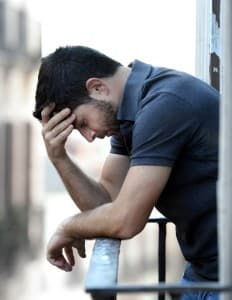 Surprisingly, those who kept working showed increased levels of alcohol abuse. While drinking during work hours decreased, drinking after work drastically increased.
It appears continued employment did not decrease stress levels, compared to unemployment, as much as one would think. Fear of losing one's job, combined with increased demands at work, pushed employees to consume more alcohol after the work day was done. Unwinding during happy hour became a way to cope.
During the recession, employees increased both their frequency of excessive alcohol abuse and episodes of drinking in the first two hours of leaving work.
Why so Anxious?
Thanks to the research, we now know that work-related drinking patterns are closely related to two psychologically destructive stressors:
A feeling of uncertainty
The loss of control over things that are most important to us
Recessions shove these two stressors in our faces every day. Will we be able to hold onto our jobs? What about our retirement plans? Are our houses losing value with every passing second?
Piled on top of these questions are increased demands at work. Researchers also discovered that the intensity of work significantly increased due to the 2008 recession. That meant working faster, tighter deadlines…and more stress.
Based on the research, it appears a combination of dangerous stressors essentially led employees to drink greater amounts of alcohol, revealing that work-related stress and anxiety over potential job loss can lead to just as much – or more – alcohol abuse than actual job loss.
…the intensity of work significantly increased due to the 2008 recession. That meant working faster, tighter deadlines…and more stress.
What Works for Workers
This alcohol-related trend is an important issue to address, as it poses risks for both employers and employees.
For the employee, it could lead to substance abuse and addiction.
For the employer, it can result in greater instances of absenteeism and poor performance by hung-over employees.
On both sides, excessive drinking can create an unreliable workforce caught up in the physical and relational consequences of substance abuse.
To prevent this cycle from churning onward, employers need to put workplace interventions in place – especially during times of economic recession. Paying close attention to the emotional state of employees and establishing programs to address those mental health needs should be a top priority for all employers.
Researchers are eagerly awaiting the results of additional studies, especially those that will help us determine the best programs and practices for anxious workers. With the right support, both employees and employers can get through tough economic times and come out the other side feeling much stronger and much more confident.
Additional Reading: Are Successful People More Prone to Addiction?
Image Source: iStock, Shutterstock