An Introvert's Guide to Rehab: It's Time for Group!
Group therapy is a cornerstone of traditional Minnesota model rehab; it is also the model that the vast majority of rehabs use.
Sharing with a group can be very difficult for introverts. Talk with your counselor in private if you feel uncomfortable sharing certain things. Remember, you have the right to set boundaries. Rehab is supposed to make you stronger in setting your own limits – after all, once you get back out into the "real" world, you have to set your own limits around alcohol and other drugs!
Getting the Most Out of Group
Counselors vary a lot in terms of how much they push people to share in group. If you feel truly uncomfortable with how much your counselor is pushing, first talk it over with him or her. If that doesn't work, seek the advice of a different counselor. Ask if there is a specific reason you're being asked to share about a particular issue in group. Suggest that you're more comfortable sharing about some issues in your one-on-one sessions.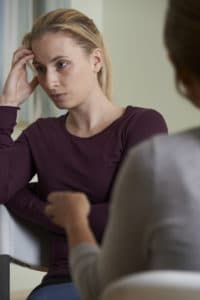 Issues about abuse and assault or thoughts of suicide can be particularly sensitive, and a counselor should understand if you don't want to discuss those in group. Remember, it's your chance to improve your life and health – if something doesn't feel right, trust your instincts.
Talking about other people's personal lives can be a real challenge for an introvert. I know I felt a distinct sense of, "This is not my business!" when I first started group therapy. Set up some personal goals for how much you will participate. For instance, you will make four comments worth of feedback to other participants in the group in each session.
Remember, you have experience that could help others. As long as you follow the ground rules and make comments in loving, non-judgmental ways, you can be of assistance to others…and that will make you feel better too!
Processing Information Takes Time
One thing I noticed when I was in group therapy was that sometimes the most insightful, helpful comments were made by the women who didn't talk much outside on the patios or at other group activities. The super popular girls didn't necessarily dominate the discussion or say the most helpful things. The introvert's tendency to think before she speaks, and to consider the impact of her words, is a great asset in group therapy. I found myself going up to the quietest women after session and thanking them for their perspective.
Introverts are often, though not always, very sensitive to other people's input. One of the scariest things for me about group therapy was being afraid of being judged by the other women. There were times when things that other women said hurt or didn't ring true. I decided at the beginning that while I would take a moment to consider their input before speaking, that if something didn't feel right, I'd simply state something like, "Actually, that's not how I feel."
The key to getting the most out of group therapy, in my opinion, is finding out that you're not alone. You won't identify with everyone else's experience or find everything they have to say useful, but you might be surprised at how much you take away from sessions.
Additional Reading:   An Introvert's Guide to Rehab: Taming the Fear 
Image Source: iStock