An Introvert's Guide to Rehab: It's the End of the Line
Week Four
You're almost there. Almost to the end of the twenty-eight days. You can do this! But people are starting to tread on your last nerve.
Remember, this is not forever…
If you're in a 28 day program, you're almost done. Even if you're transitioning to extended care or a sober living house, you're probably going to be under less pressure to spend time with others soon and have more freedom to set your own schedule.
Crossing the Finish Line
So, how do you deal with those moments when you feel like you'll scream if you have to spend one more second alongside another human being?
This is another time when having other introvert allies can be very helpful. Taking silent walks with fellow introverts can help relieve the pressure. An introvert friend and I formed a little yoga group and did stretching poses outside during recreation time. Physical activity can really help cut down on that "I only have one more minute of nice!" feeling, so try walking to meetings instead of taking the shuttle bus, taking recreation time to hit the gym, or even just going the long way around campus to scheduled sessions.
Planning for the Future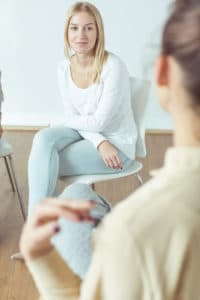 Week four is a great time to start thinking of introvert strategies to maintain your recovery on the outside. Start to imagine what activities you'll enjoy once you have more freedom in your schedule. Long walks in your favorite park? Listening to music alone? Quiet reading? Spending time with your pet?
I found that going to rehab gave me an appreciation for the ability to decide how to spend my own time that I had never had before. I learned how to respect the introvert part of my nature and to see how, at times, my drinking had been fueled by pressure to be social when I really wanted to be at home with a good book and my cat. 24/7 close contact with others can help us learn new skills and even find that we enjoy company much more than we realized. However, it can be a real challenge for introverts. Congratulate yourself on making it this far, and keep your eyes on the finish line!
As you discuss your aftercare plans with your counselors, be sure to raise your preferences as an introvert. Your aftercare priorities may include spending time to do some recovery reading every day, or to meditate or walk alone. Recovery is not a one-size-fits-all proposition, and it's up to you to advocate for the help you need to make a plan that will work for you.
Let's Talk About the Living Situation
This is also a good time, if you're involved in family therapy, to discuss your needs for time alone with the people you'll be living with once you get home. Setting clear expectations for how much space you need and how you will be accountable to your loved ones helps ease the transitions. Those moving onto sober living homes will want to find out what the home's expectations for meeting attendance and group activities are.
You did it. You made it to week four. Congratulations! Stay tuned for suggestions on the introvert's first 90 days "on the outside!"
Additional Reading:   Get Motivated – 5 Tools for Building a Sober Life
Image Source: iStock