Alcohol Ads: Bad Influence or Harmless Marketing?
Recently, in an effort to curb alcohol abuse, Los Angeles, Philadelphia and San Francisco banned alcohol advertisements in certain public areas. Along with the banning of a few specific alcohol products, it comes as no surprise to find that an age-old debate has once again been revived.
This time, the question at hand is: Do alcohol advertisements affect the way people drink?
What's the Real Question?
For years, we've been told that alcohol advertisements are able to negatively influence and even encourage people to drink. The question here is whether or not the ads affect how you drink. Not what you drink, which is an ad's intended purpose, but how you drink.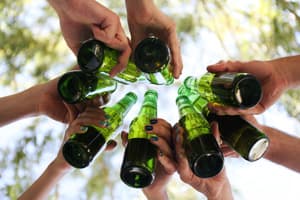 A majority of this debate focuses on advertising's effect on underage drinking. Do alcohol advertisements increase the risk of underage drinking? And, of course, the answer to this question depends largely on whom you ask.
To minimize underage ad exposure, alcohol companies have self-imposed guidelines intended to keep TV ads out of programming with more than a 30 percent underage viewership.
As the maturity of popular TV programming increases, adolescents are more easily exposed to "mature" content. This makes adherence to these guidelines, as well as obtaining conclusive evidence on advertising's impact on underage drinking, more difficult.
Alcohol Ad Guidelines
A recent study conducted by RAND, a nonprofit research organization, found a positive correlation between ad exposure and underage drinking among 7th to 9th graders. However, the study only included ad exposure during late night programming, such as Jay Leno, David Letterman and Saturday Night Live.
…does the RAND study measure ad exposure or does it simply indicate that teenagers who stay up late are more apt to drink?And in the end, of course, we're left with more questions than answers. For example, does the RAND study measure ad exposure or does it simply indicate that teenagers who stay up late are more apt to drink?
Also, the measurements included magazine ads found in Playboy and Rolling Stone. Does that mean we can reasonably conclude that a Playboy-reading, night owl adolescent test pool, which was also exposed to alcohol ads, is reflective of all adolescents and their drinking behavior? Probably not.
Do the Ads Really Have an Impact?
On the other side of the argument, a recent study by professors at the University of Texas showed little to no correlation between alcohol advertisements and overall drinking behavior.
According to the report, although advertising spending increased 400 percent over the last 40 years, overall alcohol consumption has been consistent. However, the International Journal of Advertising published the study, so it's reasonable to assume that these findings are reflective of specific market interests.
In short, many studies have been conducted with statistical findings supporting both sides of this argument. Although the media's impact on underage drinking should be acknowledged, research conclusively and continually shows – without motive – that the influence of parents and friends significantly outweighs the influence of a Budweiser Clydesdale.
Regardless of how significant an advertisement's impact is perceived to be, the living room – not the living room TV – is the greatest indicator of underage alcohol abuse.
Additional Reading: In Case of Emergency: Facts About Alcohol Overdose
Image Source: pixabay.com