Agoraphobia and Substance Abuse: A Bad Combo
Holly looked out the window; it was a gorgeous sunny day. She knew she needed to get out to the grocery store – she was even running out of toilet paper! But she was petrified to leave the house.
Then she looked at the case of beer on the floor. Just one would take the edge off, she knew. But it would also start the cycle of drinking until she passed out all over again.
The Link Between Agoraphobia and Substance Abuse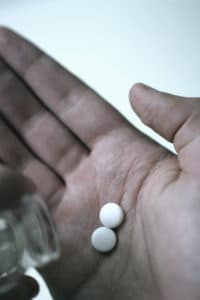 When someone has agoraphobia, they're afraid of open spaces, sometimes of crowds, and sometimes to even leave the house. It can be a serious trigger for substance abuse.
In fact, agoraphobia and alcohol use disorder often occur together. Three potential explanations have been suggested for this:
People with agoraphobia are self-medicating with alcohol.
Alcohol use and alcohol withdrawal disturb the brain chemicals that cause panic and agoraphobia.
Some people are genetically predisposed to have both agoraphobia and alcohol use disorder.
Learning Healthy Coping Strategies
It doesn't really matter if the alcohol use problems came before the agoraphobia or vice versa. Substance abuse might help people like Holly feel better for a short time, but not in the long run. Medication, mindfulness techniques, and therapy can all help in learning healthy coping skills.
If you're like Holly and find you need a beer to go to the grocery store or a Xanax to take the subway, talk to your doctor to see if treatment for agoraphobia is right for you.
Here are a few suggestions on dealing with agoraphobia without substance misuse:
Tip #1 – Take it easy. If you're scared to leave the house, take a walk around the block first. Gradually build up to longer walks .
Tip #2 – Take a friend. Being with someone can increase your feelings of safety and also keep you accountable to your plan. But make sure you bring someone who understands that you're suffering from a real disorder and aren't just making excuses.
Tip #3 – Breathe, breathe, breathe. Deep breathing can do wonders for panic attacks.
Tip #4 – Presence yourself. Notice the little things around you. Instead of looking at the crowd, focus on one flower on the ground or one item in the grocery store.
Tip #5 – Above all, talk to your doctor honestly and see what treatments are right for you.
Additional Reading:   More Than Just a Doctor – How GP's Can Help You Get Clean
Image Source: iStock