Adolf Hitler's Secret Drug Addiction Revealed
Did Adolf Hitler secretly struggle with a severe drug addiction? A newly released British documentary suggests that the Fuhrer regularly abused multiple substances, including crystal meth.
Hitler's Rampant Drug Abuse
Using data from a 47-page wartime dossier compiled by American Military Intelligence, the documentary alleges that crystal meth was just one of 74 different medications that Hitler abused.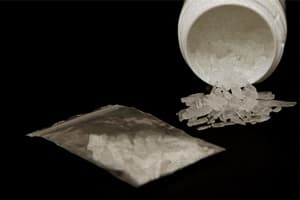 With the medical records and interviews of doctors who treated him, it's believed that Hitler took crystal meth before a 1943 meeting with Mussolini in which he ranted for two hours. He also reportedly took nine injections of a drug called Vitamultin, containing methamphetamine, during his final days in his bunker.
Hitler's drug addiction was reportedly sparked by a man known as Dr. Morell. The German leader began visiting Morell's Berlin clinic in 1936 after suffering from stomach cramps. Soon after the doctor began prescribing him barbituates, a morphine-based drug called Eukodal and a pill containing crystal meth called Pervitin. Dr. Morell also prescribed a series of sedatives to counterbalance these medications. By 1943 Hitler was severely addicted to a mix of uppers and downers.
"Morell was a fraud and a quack and a snake oil salesman," said Bill Panagopoulos, an American collector who discovered the dossier. "He should not have been practicing medicine anywhere outside of a veterinary clinic."
Addiction and Politics: A Modern Problem
Hitler is hardly the only political figure to struggle with drug addiction. Numerous state and local politicians have been arrested or forced to resign in recent years as a result of their addictions.
Trey Radel, a republican legislator in Florida, was arrested last October after buying cocaine from an undercover officer in Washington, D.C. He was sentenced to a year of probation and attended inpatient rehab for nearly a month afterwards, but eventually resigned his seat.
A February 2012 police report showed that Mel LeBlanc, a councilman in Arlington, Texas, had been obtaining meth and marijuana from prostitutes for years. Although he didn't face any charges, he resigned from office days after the report went public. Meanwhile, Danny Sparks, the Mayor of Olive Hill, Kentucky, was arrested that same year for selling pot to a police informant in the parking lot of an elementary school. He resigned from his position shortly thereafter.
Of course, the biggest political drug scandal in U.S. history goes to Marion Barry. Washington, D.C.'s democratic Mayor was arrested in 1990 for crack cocaine use and possession, with the hotel sting operation caught on tape and aired worldwide. Barry was sentenced to six months in federal prison on a drug possession charge, but returned to politics after being released in 1992. He eventually won a fourth mayoral term in D.C. from 1995 through 1999.
Learn more about treatment options for alcohol abuse and drug addiction.
Google Images/Flickr