7 Signs It's Time to Fire Your Therapist
Sara started to wonder if she'd be better off talking to her dog. At least he wouldn't look at his phone every 60 seconds. She'd never gone to therapy before, so she wasn't sure what it was supposed to look like. She figured this must be how all therapists act.
After four months of sessions, she felt like she hadn't made any progress. So, she started asking around. As it turns out, there are better therapists out there…and Sara decided it was time for a change.
Finding the Right Fit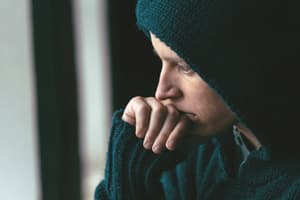 Through her research, Sara discovered a few red flags to watch for when it comes to choosing a therapist. (Her therapist had waved several of these.) If you're looking for a therapist or are currently in treatment, listen for the following types of statements:
Sign #1 Being a Know It All"I'm an expert in everything!"

This is kind of like saying you're an expert at nothing. No one can "specialize" in everything. A good therapist should be knowledgeable about many types of issues. But, if he or she claims expert knowledge no matter what the scenario, they're overstating their abilities.
Sign #2 Being Focused Only Your Diagnosis"I have the perfect system for your diagnosis."

Specializing in certain types of treatment is fine. Only identifying with one "brand" of therapy, on the other hand, can make the focus too narrow. If they're convinced they know how to treat you before they meet you, they will likely never understand you.

If they overemphasize that they specialize in your diagnosis, there's a chance they may see your problem instead of you. In order to help you, a therapist first needs to dig to the root of your pain. They need to understand who you are, how you live and how you view things. Their expertise should be in discovering these things and helping you reshape them in a healthy way.
Sign #3 No Set Objectives"Let's just see where this takes us."

Exploring the situation and your problems at the start of therapy is normal. Obviously, you have to start somewhere. The therapist needs to work with you and determine a direction to take, but this shouldn't be the ongoing theme of therapy. You should both agree on the goals of therapy and the methods needed to attain them. Both of you need to know what you're there to accomplish.
Sign #4 Exhibits Interest in You Not Your Therapy"Want to meet for coffee sometime?"

Boundaries! There must be boundaries! If you feel a connection with your therapist, that's great. It's helpful to feel comfortable sharing. If your therapist wants to take that connection further, cancel your next appointment and find a new therapist. You aren't friends. You are patient and therapist. You don't get together outside of therapy.
Sign #5 They Talk About Themselves"Did I tell you what my dog did last week?"

Your therapist may share some personal details to help relate to something you've said, but the focus should still be on you. If you find that your therapist spends as much (or more) time talking about him or herself than you do, it's time to move on.
Sign #6 They Don't Have Time for You"Let's reschedule."

You've probably cancelled at least one appointment in your life. We all have times when something uncontrollable comes up. You've probably been late a time or two, as well. It happens to the best of us. Give your therapist a little grace if this happens. But if they cancel your appointments often, or they're regularly late, it becomes unprofessional and disrespectful. Find someone who respects your time.
Sign #7 They Don't Pay Attention"What were you saying?"

Your time with your therapist is exactly that – your time. They shouldn't be on the Internet, spacing out or dozing off. If they aren't paying attention to you, find someone who will.
Additional Reading:   Get Motivated: 5 Tools for Building a Sober Life
Image Source: iStock