5 Ways Addiction Drains Your Bank Account
Addiction is costly in every sense of the word. Drug or alcohol dependency already comes at a high price, costing you friends, jobs and family members. But this is a disease that also drains you of monetary status. In fact, floating an addiction can quickly leave you penniless.
Quick Calculations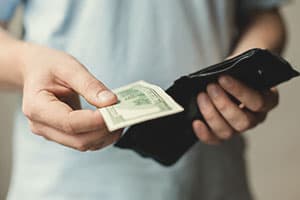 Let's say you have 15 drinks at the bar each week; that conservatively adds up to about $100 you're spending each and every week. Over time, that weekly tab adds up. Before you know it, you've spent more than $5,000 in one year on drinks. Keep drinking at that rate for 20 years and you'll spend more than $100,000 on alcohol.
But when you're paying for an addiction, there are plenty of other ways your bank account can be depleted. Borrowing money from friends or accruing multiple late fees on your bills are two more common ways this disease burns through savings accounts.
With drugs and alcohol costing so much money, it should come as no surprise to learn that most newly-sober people are able to save hundreds of dollars each month.
Funding an Addiction into Financial Ruin
Here's a look at five other ways addiction drys up your savings:
Paying medical bills: Needing to visit the doctor for physical injuries brought on by drugs or alcohol can be extremely costly – especially if you don't have health insurance. It's not uncommon to spend hundreds or thousands of dollars to get back to a normal level of health – a level you would probably already have if it weren't for that drug of choice.
Legal fines: Receiving a DUI can be extremely expensive. Between the court-ordered fines and hiring an attorney, the national average cost of a DUI totals around $10,000. In Alaska, the expenses can even reach up to $25,000.
Jail Time: A recent Bureau of Justice report found that 53 percent of state inmates and 45 percent of federal inmates had a drug problem in the year before entering prison. While behind bars and not earning money, the expenses continue to add up, particularly when it comes to matters like child support.
Loans: In the throes of addiction, many people turn to high-interest or "quick cash" loans as a way to pay bills or even feed a drug habit. This often leads to maxed-out credit cards and low credit scores that take years and years to restore.
Rehab:Standard rehab facilities cost between $10,000-20,000 per month. While treatment may not come cheap, it's a necessary expense in order to get clean…and stop the financial bleeding.
Additional Reading: In Case of Emergency: Facts About Alcohol Overdose
Image Source: pixabay.com, commons.wikimedia.org