5 Things Not to Say If a Loved One's Mentally Struggling
My youngest sister has struggled with crippling anxiety and depression her whole life, and my family finds it hard to empathize and understand exactly what she's going through. But if there's one thing we've learned along her journey, it's the importance of being mindful about what is said.
We've made plenty of mistakes and adhered to the "tough love" approach, only to wonder why our words seemed to be hurting, rather than helping.
Words Turned Weapons
If you seem to be in the same boat, take note of all the wrong things to say to someone who's suffering and be sure not to repeat them:
"Get over it."It's so easy to say these words when you're frustrated with your loved one's behavior, especially when you want her to be proactive and make changes. While this impulse is understandable, a depressed person may feel even more despair when she hears this. She wants more than anything to "get over it," but she can't and doesn't know how.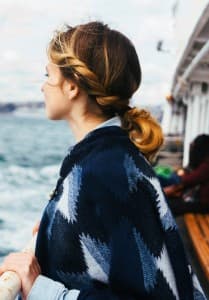 "You're not the only one."
Comparing one's feelings of depression is a common tactic in an attempt to convey understanding. For example, someone may tell you how they were depressed when a loved one passed away. However, the two are incomparable – one type of depression is chronic, while the other is an isolated event. So trying to put yourself in her shoes really doesn't help anyone – after all, we don't really understand the demons she fights every day.
"You're lazy."Those with depression tend to sleep a lot and appear lethargic, so it's easy to write her off as someone lacking motivation. However, laziness is a character flaw, not a symptom of an illness. Keep in mind just how ill she is before you make such an assumption. You don't want to make her feel any worse for the mental or emotional struggle she's already battling.
"It could always be worse."While positive thinking is a great thing, it doesn't do a whole lot to help someone who's already depressed. It's true that things could always be worse, but that can leave a depressed person feeling guilty about her illness – and that's no way to get better. When in the depths of depression, it's difficult to look outside of her situation and see the goodness in life. Instead of saying things could be worse, just offer your love and support.
"Stop feeling sorry for yourself."Saying this to a loved one suffering from depression can actually make her feel worse. After all, she's not crying out for attention – she's suffering from a condition that makes her constantly feel helpless, hopeless and inadequate.
Additional Reading:   Connecting Life Purpose, Addiction and Depression
Image Source: iStock