5 Safe Driving Tips for Holiday Party-Goers
You know the peppermint punch will not be kid-friendly…neither will the egg nog. The party will include Christmas champagne toasts, gifts of holiday liquor and free-flowing Santa Schnapps.
And then, the party's over and it's time to go home.
Make Safety Your Priority
What's a party-goer to do? How can you enjoy the festivities…and still make it home safely?
When you're heading out to festive holiday gatherings, keep the following tips in mind and make sure your drive home is a safe one.
#1   Track Your Tonics
Your liver can only process one standard drink per hour. If you drink more than this, your blood alcohol concentration (BAC) will spike over the legal driving limit (.08) and you will be unfit to drive. Some people should limit themselves even more due to metabolism, size or tolerance.
To help keep track of what you drink, don't top off glasses of alcohol. If you only finish one glass, but it's been refilled at the half-way point several times, you will drink more thank you think.
#2   Limit Your Libations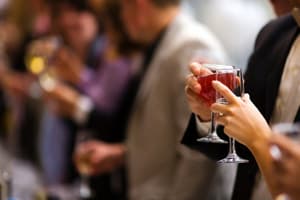 It's easy to get carried away at a holiday party with all that jollying going on. To help limit your alcohol intake, include "spacers" in your beverage choices for the duration of the party. These are non-alcoholic drinks between alcoholic ones. So, start off with a non-alcoholic drink, and then choose another non-alcoholic one for every second or third drink.
Drinking low-alcohol drinks also helps limit your intake. Avoiding cocktails, which are hard to gauge for exact alcohol content, will help keep you steady for the drive home.
Avoiding shots or rounds is also a good idea. Trying to keep up with other drinkers at the party can quickly make you unfit to drive.
#3   Go for Less Salt, More Sipping
Holiday parties typically offer a smorgasbord of delights. From chips, to cookies, to fruit cake, you'll likely have tons of options for munching. Try to avoid foods that will increase thirst, like salty snacks.
And, as you eat, sip your drink. If you find yourself needing to gulp or wash down a dessert, grab a glass of water, then go back to sipping your alcoholic beverage.
#4   Wait a Minute
Did you know that your BAC can still be rising up to three hours after your last drink? If you have been drinking, give your body time to process it before you drive. Don't try to compensate with a bit of fresh air or a cup-o-joe. This doesn't work. Wait…be safe.
#5   Choose Plan B
Always have a back-up plan. The solution should never be to simply risk it. If you've had too much to drink to drive safely, don't drive. Get a ride. Take a cab. Sleep over. Do whatever it takes to ensure you don't drive impaired.
Sobriety is the Safest Option
Of course, the safest option is always don't drink and drive, period. If you have been drinking, be prepared not to drive. It just takes a little bit of planning ahead.
For your sake – and the lives of other motorists – be responsible and do your part. Help make sure everyone gets home safe this holiday season.
ADDITIONAL READING:   Study: Are You One of these Four Drunk Types?
Image Source: iStock