3 Illusions Bound to Keep You Stuck in Addiction
Illusion #1 – I Can't Change.
"I'll just relapse. There's no point in trying. I can't change," Victor tells himself. But all his protests are rooted in illusion.
Victor has adapted to plenty of changes throughout his lifetime – even day-to-day events show his flexibility. Before his drug use began, he held several very diverse jobs. He learned skills for retail, restaurant, and writing environments. His current friendships include artists, athletes, and Army recruits. By maintaining such diverse relationships, he's clearly able to interact with people. Victor has lived in Chicago, Miami, and Nashville. Adapting to these different environments took skill.
When his brother reminded him of these qualities – flexibility and determination – it encouraged Victor. It's true; he'd faced some pretty difficult changes in the past. But he was always able to adapt and overcome in order to meet new needs. Maybe he would give treatment a try after all.
You've adapted to new circumstances before. You've made hard changes in the past. Like Victor, you're a lot more flexible than you think.
Illusion #2 – I'm Not Strong Enough.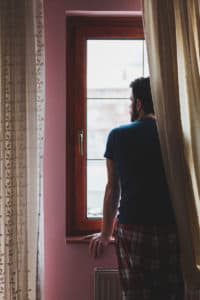 Cheryl is terrified. Her family keeps asking her to get help for her substance abuse, but she doesn't have the courage. How can she possibly admit to everyone that she has a drug problem? How can she go to a strange rehab facility where she knows no one? How can she live life without drugs? It would be too hard to face.
Cheryl's mom sensed her daughter's fear. She knew Cheryl needed encouragement, so she offered these words: "Cheryl, you went off to college by yourself, far away from home. You starred in three high school plays and a community production. Just last summer, you worked as a lifeguard. When no one else was willing to stand up to your friend Tanya's bullying attitude, you were the one who confronted her. I see so many things in your life that demonstrate bravery. Don't let fear hold you back from getting help. You have the courage. You can do this."
You've faced challenges in your life and you've handled intimidating situations. Just like Cheryl, you're a lot braver than you think. Don't let a fear of the unknown keep you from seeking help.
Illusion #3 – I'm in This All Alone
Tim sits alone in his room. "I'll never get out of this mess," he says out loud while staring at the bag of pills on his desk. "No one will help me. I can't afford rehab. Nobody will understand anyway. I'm all alone, and there's nothing I can do to escape my addiction."
If we look at Tim's life, we realize the isolation is an illusion. He isn't alone at all. In fact, he has a lot of options available. He has an older sister and two loving parents that would gladly help him. There are a dozen support groups within five miles of his house. His employer offers financial assistance for rehab, and the closest treatment facility provides scholarships for patients in need. Tim's substance abuse definitely has him in a tough spot, but he's not there alone.
You're not in this fight alone. Community groups, family members, friends, colleagues, therapists and others are out there – and they're ready, willing, and able to offer support. You have options available to finance your treatment. Like Tim, you have more resources and options than you think. Don't isolate; reach out and ask for help.
Additional Reading:   Controlling the Addiction Conversation in Your Head
Image Source: iStock