10 Most Embarrassing/Ironic Drug Arrests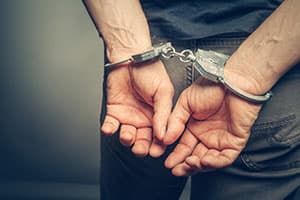 Some people we expect to be arrested for drug use. Take Lindsay Lohan, for example, or Charlie Sheen. Britney Spears had tough times, as did Robert Downey Jr. For film stars, it all seems to be part of the course of fame, and for some, the blaze of publicity can even improve their careers after a while.
Other people we don't expect to be arrested, like those who lambast drugs from a podium, those who treat addiction, or those who enforce drug laws. These are cases that genuinely shock us. Whether it's a pastor from a church who has been caught dealing or a police officer who tries to purchase drugs on his lunch break, we enjoy a good story about those in power who fall. Here are ten of those who fell badly from grace – most of them during 2012.
1. Mark Derksen
Mark Derksen, 63, was arrested in 2012 for dealing. That wouldn't be particularly shocking, except the man is a pastor at an Arizona church. One of his duties was to help those addicted to drugs. He had a peculiar way of doing this: by selling them drugs. He'd been on the DEA's watchlist for two years before they finally had enough evidence to raid his flat. While there's no evidence that he traded drugs at the church—although there are suspicions—he reportedly managed to sell a lot of out of his apartment. Holy smoke, anyone?
2. Gussie Smith
Another pastor caught, this one's 77 and from Florida. Gussie Smith was arrested following a tip-off that she was selling oxycodone. While she reportedly had a legit need for the drug, she was arrested following a mass drugs swoop centering around a car lot owner. She reportedly bought drugs from the man and then distributed them, although it should be pointed out that her church is not thought to be involved in this.
3. Kristin Dempsey
Drug counselors often see the worst that drugs can do, and it's no surprise that they would be tempted to try. It becomes shocking when instead of trying to help people, they end up dealing to those put under their care. In Santa Cruz, 33-year-old drug counselor Kristin Dempsey was arrested after cops suspected she was selling heroin to local addicts. Authorities reportedly found 6.7 grams of the drug in her home, and the she was charged with possession.
4. Sidney Miller
In North Carolina, another drug counselor was arrested for possession in November. In this case, Sidney Miller DeRamus apparently had a marijuana growing operation in his home. He was employed at a nearby halfway house, and his job entailed working directly with addicts. He was also charged with firearms offenses. While this won't be the last time a drugs counselor will be arrested, it is still sad to see it happen.
5. Dubai 19-year-old Cop
Despite Dubai's incredibly strict laws, people do trade narcotics there. A 19-year-old cop was recently arrested there for trafficking tramadol pills—417 of them. Despite his vow to uphold the law, he was arrested, and his future remains uncertain. Dubai is certainly not averse to making severe examples of drug users and traffickers.
6. Christina Danielle Allen
Back on this side of the pond, a corrections officer, Christina Danielle Allen, was caught buying Roxicodone, another opiate. The officer even reportedly asked the dealer for a police discount before paying out for the drug. Oh, and all of this was on her lunch break. Cops had been monitoring the dealer's phone and spotted a number of texts from the corrections officer, and the cameras revealed the deal. While she could've received help if she'd come clean about her addiction earlier, she is now out of options as far as her job is concerned.
7. Judge Baumgarter
Judges – those who imprison men and woman for dealing drugs are not, by definition, allowed to then buy said drugs after the trial. Judge Baumgartner, a 64-year-old Tennessee judge pleaded guilty to a single count of official misconduct in March 2011, but the subsequent investigation revealed that he had been using during so many trials that Tennessee officials are now facing hundreds of cases that may need to be retried. The judge apparently developed pancreatitis due to rampant alcoholism, so he started taking painkillers to deal with it. He quickly became hooked on those, and he started doctor shopping to get more. Eventually, he burnt through his savings and was caught.
8. Tom Corea
Attorneys are no strangers to drug addiction either, although they are normally either defending or prosecuting those accused of the drug use. One attorney, Tom Corea, developed such a bad addiction to clonazepam that he reportedly ended up stealing award monies from his clients. He asked to be sent to an addiction facility instead of going to jail; unfortunately the judge refused. He may still get the chance to do so when his trial concludes.
9. Patrick J. Kennedy
Patrick J. Kennedy was perhaps one of the more prominent Congressmen admitting and getting arrested due to drug woes, cursed as he is with the Kennedy name. In 2006, Kennedy crashed into a barrier. He appeared, according to the cops, intoxicated, but he stated at the time he was disorientated due to two prescription sleep aids. The next day, he admitted he had a problem with drugs and admitted himself to a drug rehab facility. After a month, he was released.
10. Sue Farenthold
2012 presented an embarrassing situation for Representative Blake Farenthold, who represents Texas's 27th congressional district. The Republican representative who had stormed to victory and stated he was taking a very tough line on drugs, saw his sister arrested on drugs charges. After a SWAT raid on a home in Corpus Christie, his sister, Sue Farenthold, was arrested with three men. Meth and heroin were also reportedly found. Her brother had no option but to praise the cops who had arrested her. Perhaps now he'll see how ridiculous mandatory minimum sentences are for nonviolent offenders.