What to Look for in Resort Rehab Facilities
There's no reason to be embarrassed about struggling with addiction. Addiction hits every demographic and anyone can fall victim to it. Today, resources are readily available for addressing and overcoming all sorts of mental health issues. Combining the highest level of care in the most welcome of settings, resort rehabs could be just what you need to jumpstart your recovery.
While inpatient care is certainly more intensive (and expensive), many find such a setting to be particularly therapeutic in promoting recovery. When you stay at a resort-style rehab facility 24/7 for weeks or months, you have the chance to unlearn bad habits and form new associations in a relaxing and beautiful atmosphere.
Rehab centers with a resort feel strive to be welcoming and hospitable places. While many offer some of the best substance rehabilitation care available, they also put a huge focus on your comfort and overall experience while in treatment. When you've been living with the oppressive, daily struggle of addiction, attending rehab in a scenic, idyllic location can be a very welcome change and may offer a glimpse into the beauty that a life in sobriety can hold for you.
Your privacy and confidentiality are completely protected at any addiction treatment program. As a licensed facility that provides medical and mental health care, these programs must comply with HIPAA regulations and ensure that your personal information is secure.1
About Rehab Treatment
In a resort-style rehab, the main core of treatment, behavioral therapy, will help you to identify harmful thoughts, beliefs, and behaviors and develop the skills to change them. Resort rehabilitation also will often offer alternative or holistic treatments, such as yoga, meditation, and even equine therapy (where recovering addicts interact with horses as part of their therapeutic process2).
Many rehab facilities will utilize medications as part of detoxification and treatment. For those programs that offer medical detox as part of their services, certain medications may be used to mitigate the more severe symptoms of withdrawal and prevent any serious medical emergencies, such as seizures. Medications are not limited to detox, however. A variety of treatment medications can be used in both the short- and long-term to promote recovery by restoring healthy brain functioning, managing protracted withdrawal, reducing cravings, and/or otherwise discouraging continued substance use. Pharmacotherapy for substance use disorders may include (but is not limited to) treatment medications like methadone, buprenorphine, naltrexone, and acamprosate. These drugs are best used in combination with therapy as part of medication-assisted treatment.3 They are not a cure for addiction but can help to restore some stability while you work through the issues that contributed your addiction in your therapy sessions.
Treatment may also incorporate some or all of the following elements:
Family therapy.
Group therapy.
Educational classes on addiction.
Life skills training.
Vocational training.
Aftercare planning.*
*Aftercare refers to the continuing treatment and support you receive once you leave rehab. This might involve making a plan for regular outpatient therapy visits, receiving counseling over the phone, attending regular recovery support groups, or transitioning to a sober living home.
What to Consider When Picking A Detox Center
Cost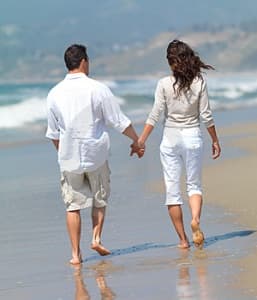 Not all resort rehab centers accept insurance. You will want to investigate payment options before booking your flight.
Some facilities may offer special financing if you can't immediately pay the full bill. You can also investigate your options for healthcare-only credit cards or loans. If attending a resort-style rehab is what will get you to say "yes" to getting help, the cost may be worth it. A life spent in addiction is far more costly than attending treatment.
Whether to Travel
Many people entering rehab are faced with the decision of traveling far away or staying closer to home. It all boils down to a matter of personal preference. There are natural benefits to either choice. Having family and friends nearby can be beneficial for those who are very community-oriented and have positive supports in their circle of family and friends. On the other hand, a profound change of scenery might prove more therapeutic in some cases. Traveling may be especially important if you have many toxic relationships and triggers at home. In many cases, attending a resort-style rehab could require some travel, as they tend to be in destination locations, such as on the beach.
Free Online Insurance Coverage Checker for Rehab
Use the free online insurance coverage checker tool below to find out if your health insurance provides coverage for addiction rehab and other rehabilitation treatment plans for substance abuse recovery.
Investigating Rehab
Resort rehab centers do not employ a one-size-fits-all approach. Different programs may emphasize varying treatment philosophies. It may benefit you to do some research on common treatment methods and learn if one might be better for you. Your primary care physician represents a valuable asset during this research phase.
There are a number of treatment methods being employed today at addiction treatment resorts across the nation. Treatment centers may utilize spiritual approaches, incorporate 12-step philosophies, offer MAT, etc. Not every program will be right for you, so it's worth it for you to invest the time to search for a facility you feel good about.
In addition, some rehab centers may have more rules and restrictions than others. Some will also have more restrictive visitor policies. If it's a deal-breaker for you that your loved ones be able to come visit, make sure to check beforehand whether the program will permit this.
You can make the first move today toward a healthier, happier and more fulfilling life. Remember, rehab is not a cure for addiction, and maintaining a healthy lifestyle after rehab is a choice that must be renewed each day. Thankfully, the tools and guidance provided during rehab won't magically disappear once your stay ends. You will no doubt leave a resort rehabilitation program a stronger, healthier person than when you entered
More resources about
Resort Style

: