Insurance Coverage for Eating Disorder Rehab Treatment
"Eating disorder treatment insurance coverage varies depending on the insurance provider and the coverage offered by the policy."
An eating disorder can be one of the most destructive conditions you can be afflicted with, wrecking havoc internally and causing damage to one's physical appearance. It can cause just as much damage as drug and alcohol abuse. The two most common types of eating disorders are anorexia and bulimia. A person suffering from anorexia, an anorexic, is someone who has a fear of gaining weight and chooses to starve him- or herself. Someone afflicted with bulimia, a bulimic, is one who overeats and then has an extreme reaction such as purging, crash dieting or exercising too vigorously. If you or someone you know is suffering from one of these conditions, it is crucial you get help.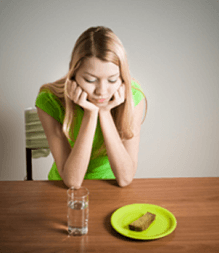 Eating disorder treatment insurance coverage varies depending on the insurance provider and the coverage offered by the policy. Depending on the severity of the sufferer's eating disorder, different methods of treatment are employed, which can greatly affect the price. It is important to know what your policy covers, so you can make an informed decision as to what type of treatment you select. In some cases, if your insurance does not cover a particular type of program, you may still be able to enroll by utilizing government aid or financing the treatment.
Inpatient Eating Disorder Treatment vs. Outpatient Clinics
There are two main types of rehabilitation centers: inpatient and outpatient. An inpatient program is for people who require a high level of care. The patients live at the facility for a predetermined duration and have access to 24-hour care. The majority of the patients waking hours are spent working on their treatment. These programs can be quite expensive; therefore, it is critical to check if your insurance covers this type of treatment. Some of the benefits of an inpatient facility include:
24-hour staff on hand
The patient is removed from the stress of daily life to focus strictly on recovery
Therapists have longer lengths of time to work with patients
Staff are able to monitor a patient's progress more easily
"By offering your loved one a choice and a delay, you give them a chance to back out."
An outpatient facility allows you to leave daily after the end of the treatment session. The length of the session differs depending on the program; they range from a few hours to the whole day. A patient enrolled in this type of program will likely be able to continue his normal daily routine. It is typically recommended for those with a disorder that has not progressed too far. There are fewer amenities offered, and the care is not as directed as an inpatient program.

According to the South Carolina Department of Mental Health, eating disorder treatment can cost anywhere from $500 to $2,000 per day for an inpatient treatment facility. The price is high to cover the costs of providing all-day care. For most people with an eating disorder, staying at an inpatient facility will have a higher success rate. It is able to offer a much greater level of care that cannot be matched elsewhere. A patient will work with counselors and therapists in order to understand the underlying issues causing the disorder. Once this is determined, the patient can learn how to address the underlying cause in a healthy manner. This process can take anywhere from one month to an entire year.
Free Online Insurance Coverage Checker for Eating Disorder Rehab
Use the free online insurance coverage checker tool below to find out if your health insurance provides coverage for eating disorder rehab and other rehabilitation treatment plans for substance abuse recovery.
Rehabs.com can help you or a loved one understand exactly what the insurance company will cover. It is connected with thousands of rehabilitation facilities across the country, and it can help you find a facility that will best accommodate your needs. It has a 24/7 toll free number that can be used to contact its advisors and learn more. The phone number is .
More resources about
Eating Disorder Treatment

: