When it Seems Like it Will Never End – Living Alongside a Loved One With Dual Diagnoses (Part II)
Part 1 of this series discussed many of the trials and tribulations of having a loved one with both mental health and substance use disorders in your life. It also touched on the concept of your recovery as a person living with or "alongside" someone like this.
None of this is to say that many people don't recover from co-occurring mental health and substance use disorders – they do. Often, the substance use disorder is under control (or less harmful – for instance, the person switches from drinking a liter of hard liquor a day to using marijuana each night) and/or the mental health problem(s) remains a problem after the substance use disorder is in remission. Difficulties with either problem can wax or wane.
One former family group member – a mental health professional and mother of a young adult who, for years, has struggled on and off with a severe alcohol use disorder (now mostly in remission) and incapacitating mental health diagnoses that required him to live in semi-structured county-funded housing – said, "The chronic part of chronic mental illness is really hard to stomach at times, especially in a young person and in particular in your own child."
Setting Boundaries, Connection, and Accepting What Is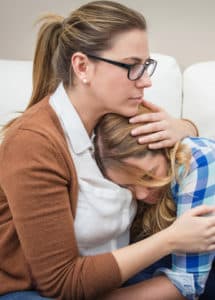 At some point, in order to survive, you have to distance yourself from all of this and let go, at least to a certain extent, without ever giving up hope or completely relinquishing love and support – all without compromising your sanity and life balance.
We're often advised to set boundaries about what we will and won't tolerate or do regarding our loved ones.
Boundaries may be about money, the need to not see each other for a while, or violation of guidelines or rules you've agreed upon or expect – along with related consequences.
As opposed to boundaries, one group member said:
"I try to focus on 'How can I safely maintain a connection?' My child is someone who needs a lot of help, and I've accepted that I can no longer be the one to manage it. Nor can I can put myself at risk with him. But I ask myself what I can do to support a somewhat healthy connection. How to do so is not ever clear but far better than slamming the door on him. It is absolutely a gray area and not one understood or supported by professionals in mental health or chemical health. It is, however, the reality of loving someone with a major mental illness and substance use disorder."
With families, we often talked about acceptance – acceptance that you have a "child" with a disability, one that may be there forever. When I asked the first woman whose son is in the group home for her thoughts about "things never seeming to end" she eloquently stated:
"Our own helplessness and loss of dreams might be a good place to start. Acceptance is something we get to revisit with the onset of every relapse, the missed milestones and the change of seasons, years, and time passing. We all start the year out with hopes and dreams for ourselves and our loved ones. I suppose that gut kick that comes with seeing unrealized hopes and dreams is the antithesis of what a New Year is meant to bring. But the reality of addiction and mental illness is the chronicity, the helplessness of it all, and the hurt.

I still think of it in terms of ambiguous loss and play with that in my mind at times. My best friend is a palliative care social worker and I often ask her about acceptance of loss over and over again – without burning out. It never does end. We just travel alongside what is in life and sometimes have to dive in again and again to help our son. It is impossible to not feel sadness and pain, yet it is also important to go on and walk beside them as much as they will let us."
Glimmers of Hope and Never Giving Up
Some parents experience glimmers of hope in their children with serious co-occurring disorders.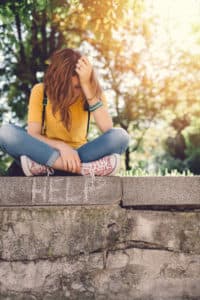 The mom who spoke above said of her son (who mostly seems like he's "flat as can be"), "Sometimes he still amazes me." She then shared the example of how the son had accompanied the family to another state upon learning of the death of a relative.
She said, "He was the first one to the hospital when he heard the news. He really stepped up to the plate and was a great and caring nephew, son, and cousin. He was amazing, and it was nice to see someone alive inside of him again."
Ever since I wrote Sober for Good, my book about hundreds of people with long-term sobriety – many of whom tried over and over before finally overcoming their substance use disorders – I have encouraged others to never give up hope. The mother who shared her messaging with Faces & Voices of Recovery, as described in Part 1, closed her statement with, "Most importantly [recovery for me] means that every day, when I wake up, I choose hope and will help to spread that hope to other families affected by substance use disorder."
In her late teens, my daughter started drinking heavily and within two to three years, alcohol had practically destroyed her pancreas – something that doesn't usually happen until after decades of heavy drinking. So many times, I waited for "that call" in the middle of the night to tell me that alcohol had taken her life. Despite her many ups and downs, however, she's managed to get two years of college under her belt and is now holding down a job she loves – working with animals.
Another happy-ending story; I know a young man who, in his early to mid-twenties, developed and overcame a $100-a-day Percocet addiction, only to then turn to alcohol and marijuana which ruled his life for the next five years.
When he went for help, he was told by an addiction specialist that he would need to abstain from all of these substances, probably for the rest of his life. After less than a year of abstinence, he drank again – heavily for a while – but gradually to the point that he now only has it on special occasions. He does use marijuana regularly, mainly at night, but in the way many people have several beers or cocktails – to unwind. He owns a successful business.  In a happy marriage with two little kids (who are in bed when he uses cannabis), he's declared the kitchen in his lovely new home his domain and is mastering new recipes all the time.
So you just never know…
Additional Reading: When it Seems Like it Will Never End – Living Alongside a Loved One With Dual Diagnoses (Part I)
Images Courtesy of iStock