"What Made You Finally Quit Drinking, Mike?"
There's an acronym called PERMA, the theoretical model developed by the happiness expert, Dr. Martin Seligman, which encapsulates the criteria for living a rich and flourishing life. He believes that these five elements can help people achieve a life of fulfillment, happiness, and meaning.
PERMA:
Positive emotions – possessing a sense of optimism and positivity
Engagement – being entirely present in the moment, a state of 'flow'
Relationships – experiencing social connection, love and intimacy
Meaning – having purpose and meaning in life
Accomplishment – having goals and ambition that give a sense of accomplishment
Escaping Death and Embracing a New Life
Before my spiral into chronic drunkenness, I'd had PERMA in spades. Before I finally sobered up, I'd lost it all. Confronted with the realization that I may die – I sobered up.  That day is seared in memory:
I can't breathe. Sweat pours off my face. I am on the way to the doctor, but I have to keep stopping, because one lung is on fire. 
I'd been drinking vodka for 19 days straight. No food. No sleep. With each inhale, I gurgle. Something is seriously wrong. Something about this detox is disturbingly different. I've done it hundreds of times: I know the drill. Normally by now, the retching, writhing, chills and sweats would be history.
Not this time.
Gasping for breath, I clutch the doorframe of the walk-in clinic. The receptionist glances up, runs, grabs my arm and escorts me into the examination room.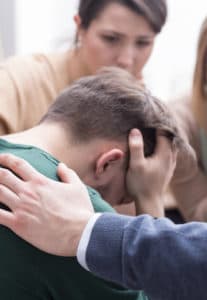 Dr. Heinz puts his stethoscope first on my chest and then pauses just a little too long on the lower left quadrant of my back. He taps on my right side, produces a hollow resonant drum.
Then on the left side: a dull, muffled thud.
With quiet urgency, he says, "We need to get you to the hospital immediately. You've aspirated vomit into your left lung."
I arrive at the ER get fast-tracked to a bed. The doctor says, "You have Empyema – complicated bacterial pneumonia."
Holed up drinking for over two weeks, I'd allowed the infection to advance to a seriously dangerous stage. In my weakened, immunocompromised, alcoholic state, my doctor tells me I have a 50-50 chance of beating this thing.
Faced with the news I might die, somewhere within the deepest recesses of my vodka-pickled brain, a voice howls, "No. No. No." I'm adamant. I'm not going out as a drunk, just like my grandfather did at 56. My age.
Bombarded by antibiotic big guns for 29 days, I eat, sleep, rest and recover. Blessed guys from AA visit every day.
With two chest tubes and suction, they drain over 3 liters of blood-tinged pus from my left lung. The infection clears with potent drugs and the exceptional care of the hospital staff. I escape surgery. I escape the drunk. I escape my fate. As I sign my release forms, I shake the thoracic surgeon's hand, "Thank you, Dr. Ashrafi. You did a great job."
"You're welcome, Mr. Pond. A lot of people don't make it from this. You are a very fortunate man. I pray you have had your last drink of alcohol."
That's some powerful prayer, doctor.

Gasping for breath, I clutch the doorframe of the walk-in clinic. The receptionist glances up, runs, grabs my arm and escorts me into the examination room.-Mike Pond
I Got My PERMA Back
Eight years later, I have everything to live for. PERMA is back.
I experience positive emotions. I feel tremendous optimism and happiness. I'm engaged in the world again. I have a balanced life and try to always stay in the present moment, rather than dwell in the past or project too much into the future.
The most important relationships of all– with my beloved sons – are positive again. My relationship with my partner is healthy, balanced and full of love. I have connection with others.
I have meaningful work in my thriving practice. I meditate and do yoga every day.
I am graced once again, with a profound sense of accomplishment. I set goals and I'm motivated take action.
The day I quit drinking, I had nothing. To those who are struggling right now to kick the habit: do not lose hope. There is something indefinable in every addicted person that helps us get well. Mine was the fear of leaving my three sons with the legacy of a father who died a drunk. What's yours?
Images Courtesy of iStock