What Constitutes a Healthy Relationship With Exercise?
According to the American College of Sports Medicine (ACSM), the amount of physical activity most adults need to maintain optimal health includes:
150 minutes of moderate-intensity cardiovascular exercise per week;
Two to three days per week of resistance training;
Two to three days per week of flexibility training; and
Two to three days per week of activities that hone agility, balance, and coordination (like yoga or tai chi)
These science-backed recommendations help determine how much physical activity constitutes "enough." But assessing the health of a person's relationship to these endeavors is another, arguably trickier, endeavor.
A State of Health
Keep in mind that the World Health Organization defines "health" as:

"A state of complete physical, mental and social well-being and not merely the absence of disease or infirmity."

Someone may be regularly fulfilling – indeed, surpassing – recommendations for weekly physical activity. Yet if they neglect to incorporate adequate rest; if they approach exercise in an unforgiving, inflexible manner that courts far more anxiety and frustration than it alleviates; and if they end up isolating themselves from friends and family in their pursuit of physical health, they are certainly not enhancing wellbeing.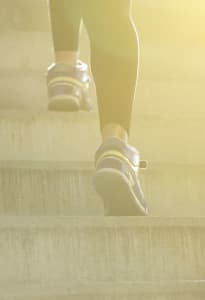 Put simply: Just because someone meets minimum standards for physical activity on a regular basis does not necessarily mean his or her relationship with exercise is "healthy." Consider the difference between two people who each aspire to "be fit" yet define fitness and go about achieving it from vastly different motivational bases.
Say, for example, these two individuals both park at the far end of a lot so as to walk a longer distance to work and take the stairs to reach their office instead of the elevator. On the surface these activities are healthy, inasmuch as they get both individuals' blood pumping, activate their muscles, and stretch their limbs. But let's say one of these individuals is forcing herself to do the above out of a sense of compulsion (i.e., I must do everything in my power to burn calories or else I will become unacceptable in the eyes of others) or obsession (think: How many steps have I taken today? Only 1,000!? I have to up my number ASAP or ELSE) and feels a sense of dread or anxiety when she cannot take the stairs or when the farthest parking spot is occupied and she must walk from a closer proximity.
Compare this to the other individual, who completes such tasks not because she feels she must or else, but because she genuinely enjoys the way doing them feels without experiencing dread at the prospect of altering her routine should she need to take the elevator on certain occasions.
In the event a person cannot alter his or her rigid exercise habits once that person's physical, social, and emotional wellbeing begins to suffer as a result, he or she can be said to be suffering from exercise addiction.-Katherine SchreiberGoing about even the healthiest of activities in an anxious, self-punitive, or addictive manner (always increasing the threshold for what constitutes "enough" and feeling as if you need more and more of an activity to quell the distress you feel in its absence or limited amount) does not constitute a healthy relationship with them. Why? Because, ultimately, the attitude and emotions surrounding such endeavors courts far more suffering than they alleviate – thereby threatening to put a negative dent in your overall wellbeing rather than improve it.
Yes, walking more and taking the stairs are good for you. (Provided you don't have a broken foot or other injury that requires rest to health from.) And no, you shouldn't necessarily give them up just because your relationship with them (and other physical activities) may not be sound. However, if the pursuit of such endeavors is increasing your suffering, it would most likely benefit you to prioritize examining the motivations and beliefs behind your actions rather than rigidly ensuring you complete such tasks day in and day out.
A Healthy Approach to Exercise
A healthy approach to exercise is one that's flexible, pleasurable, compatible with the rest of one's life, not rigid, adaptable, and challenging enough to increase fitness without being so taxing to the body that you've got little energy (or blood sugar) to engage in activities outside the fitness sphere.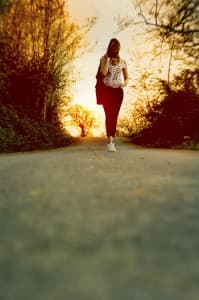 This ideal is complicated by the fact that few people (at least, in America) have schedules that allow for such a fluid engagement of physical activity – not to mention one that meets the ACSM's recommendations for weekly exertion. For many people who make the effort to stay active, finding time to exercise will involve some degree of stress, obligation, and inconvenience – no matter how much it improves their wellbeing.
Plus, due to a fitness culture that often paints exercise as a no-pain-no-gain, all-or-nothing struggle, many people intuit that leisurely walks, bike rides, lower key routines, or breaking up movement into several bouts of ten minutes a day "don't count" as exercise. As a result, when life gets in the way of their preferred training schedule, some people may feel like they're falling short – even if they do manage to squeeze in a reasonable amount of movement, albeit less (in intensity or time) than they feel is "enough."
To avoid negative feelings (of failure, inadequacy, or anxiety over their health) that arise in response to perceptions about what it means to be "fit" or "healthy," some of these people may be driven to cancel important hobbies and plans, isolate themselves from others, or push themselves past their bodily limits just to ensure they meet their supposed standards. When this type of approach becomes a pattern, it can put a damper on mental wellbeing and court physical injury and illness.
For many people who make the effort to stay active, finding time to exercise will involve some degree of stress, obligation, and inconvenience – no matter how much it improves their wellbeing.-Katherine Schreiber
Assessing the health of our exercise habits is complicated, for sure. Rare is the person for whom physical activity feels amazing every time they engage in it. Sometimes, pushing yourself is part of maintaining overall health – so long as the goal of exercise is to promote wellbeing, rather than avoid painful emotions that arise when one doesn't meet inflexible standards for exercise. But so too is knowing when to give yourself a break and relax.
Image Courtesy of iStock