Trump's Opioid War Just Got Even Worse
Until now, President Trump's promises to win the U.S. opioid war were merely empty. Recent news makes clear they are turning sinister.
Last October, Trump declared the U.S. opioid epidemic to be a national public health emergency and directed the executive branch to "use every appropriate emergency authority" to fight it.
"Ending the epidemic will require mobilization of government, local communities, and private organizations. It will require the resolve of our entire country."
This made sense; opioids are killing more than 100 people every day and millions are addicted. And the states most afflicted are the very ones that voted most heavily for Trump. But Trump has mobilized nothing and has made the worst possible personnel and policy judgements.
Instead of seeing the opioid epidemic as a public health crisis and expanding treatment options for the millions who are addicted, Trump is now reverting to his characteristically fake tough law-and-order line, blaming and punishing the victims, rather than helping them live with or get over their addictions.
In his recent State of The Union speech, Trump declared that the opioid epidemic "…has never been worse. People form blue-ribbon committees. They do everything they can. And frankly, I have a different take on it. My take is you have to get really, really tough, really mean with the drug pushers and the drug dealers."
Trump's blue-ribbon committee, headed by Chris Christie, made 56 recommendations that he is choosing to ignore – many of them related to giving states much more funding for treatment and prevention.
The Wrong Target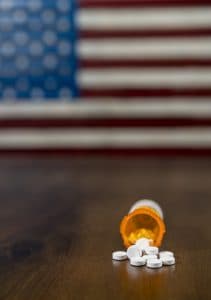 Our current opioid crisis was started by legal drug companies, not outlaw drug cartels. Millions have been addicted via doctors' prescriptions, not corner boy drug pushing. The drug cartels are now riding the wave of new customers created by Pharma, but targeting the cartels with the failed methods of the 45-year-old "War On Drugs" misses the point and will ultimately make the problem worse.
As Trump rightly noted last year, the opioid epidemic is a public health problem that must be solved with public health tools – prevention, education, and treatment. Building a wall won't stop drug companies from pushing pills. Putting addicts in jail makes no sense when so many have been addicted by their own doctors.
We need a national policy that recognizes the medical causes, consequences, and cures of the opioid epidemic. We need a "drug czar" who has wide experience with and understanding of the plight of the addicted, as well as the skills needed to lead a national public health recovery program.
Instead, Trump has wasted more than a year doing nothing and has crippled the very agencies that should be front and center in leading the concerted effort he promised but never delivered.
Appointing Boob's to the Office of National Drug Control Policy
In a recent article, we discussed how, more than a year into office, Trump had not yet appointed a "drug czar" to lead Office of National Drug Control Policy (ONDCP).
Trump's first nominee, Tom Marino, was forced to withdraw when investigative reporting revealed he had pushed legislation to restrict the Drug Enforcement Agency from preventing drug distributors from massively flooding the market with opioid pills. This was a particularly stupid and corrupt move sponsored by drug and insurance companies. It came at just the wrong moment – at the height of the opioid crisis.
Trump's recently announced replacement nominee is an equally bad fit. Jim Carroll is a White House assistant to Trump's embattled Chief of Staff, John Kelly – a man who is himself under fire and widely expected to be forced out of office in the very near future. Carroll's only experience with drug policy is prosecuting drug criminals. Somehow, this was enough for Trump:
"We have full confidence in Jim to lead ONDCP to make significant strides in combatting the opioids crisis, reducing drug use, and coordinating U.S. drug policy."
I disagree and have absolutely no confidence in the appointment of a prosecutor and political hack to coordinate our response to the opioid epidemic. Especially when Trump's budget office has recommended that the ONDCP suffer crippling budget cuts.
Trump is clearly lying when he claims to care about the opioid epidemic. He has an unerring knack for always finding just the wrong person for every government leadership position. His choices to cure our opioid epidemic have been consistently idiotic and show both his callous indifference to the plight of the addicted and his betrayal of the states that elected him.
The Senate should not confirm Carroll. And Congress should initiate its own bill to fund programs addressing the opioid epidemic. Trump has bungled the task and can't be trusted.
If the U.S. were losing 100+ lives a day to terrorists, we would quickly mobilize and fund a massive response. The opioid epidemic, started by our very own drug companies, is a far worse threat to our nation than any terrorist threat will ever be. We can't depend on our incompetent and ideological president to do the right thing. The only hopes are Congressional action and public outrage.
Images Courtesy of iStock