Top 3 Problems That Arise in Recovery
Leaving rehab for alcohol or drug addiction is an exciting yet scary time for people. While in treatment many individuals are counting down the days until they get out. However, once they complete the treatment program they are typically bombarded with a ton of different emotions, primarily fear.
A number of people I have met, myself included, leave treatment with no desire to go back to their addiction. But, they are often not fully equipped with the proper coping skills and spiritual foundation to handle the stress of everyday life. More often than not, individuals in early recovery act out in different ways, and find new outlets to fill the emotional void that once was filled by the substance. Below are the top three struggles people in early recovery face after rehab, and tips for how to overcome them.
Managing Money: Money is often related to power and control. It allows people to buy things in exchange for temporary happiness. After being in rehab for 30, 60, 90+ days, people immediately want to reassume control of their lives. Money is a perfect outlet for that. I spent $500 in one week at the end of my stay in treatment on meaningless tangible items, purely because it gave me back that feeling of control. In the throes of addiction, people struggle with impulsive and compulsive behaviors; these behaviors carry into early recovery as people learn about themselves and their boundaries. All too often people put themselves back in a position of financial insecurity because they lack control over their spending. Here are some tips and tricks for managing money.
Determine Need vs. Want and Create A Budget: Here's an example: People need food, but people want to eat out because it is easier. Going grocery shopping and making food at home is cheaper. Once a person figures out what they need they should then create a weekly or monthly budget for each category (i.e. gas, toiletries, food, etc). Set A Schedule: Early recovery is all about creating schedules and structure. In my experience, when I didn't have a date and time planned to go grocery shopping, I often found good reasons to not go because something else came up. I suggest picking a day of the week to go grocery shopping and sticking to it. Make Bulk Purchases: Many people pay a premium by making individual purchases, and are losing a significant amount of money every day, week, and month that could be put towards doing something else they like to do. Develop A Reward System for Yourself: A reward could be taking a small percentage of the money you saved and using it for a meal at your favorite restaurant. A little self-indulgence is important, and it is a good reminder that great things will come if you continue to live responsibly.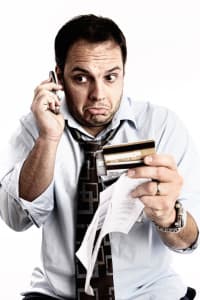 Utilize Online Budgeting and Structured Payment Tools: If you elect to dive right back into using a bank checking debit card or credit card, programs like Mint.com and Learnvest.com provide free budgeting tools, which can be useful in helping you track your income and expenditures. Prepaid cards are a great option if you do not feel comfortable jumping right back into having a bank account, or if you have bad credit. The Next Step MasterCard program, which I founded, is a prepaid card specifically designed for people struggling to overcome mental health and addiction disorders. The card helps control impulsive and compulsive spending through customized restrictions and by eliminating access to cash. The American Express Bluebird Card will also help with budgeting because you can only spend what's loaded on the card.
Cross Addictions: I didn't decide early on in life that I wanted to be an addict. I experimented and realized that I liked the feeling drinking and drugs produced, so I continued to explore. People leave treatment with the notion that they will be "ok" as long as they don't go back to the addiction that brought them into rehab. The unfortunate reality is that as an addict, I look for anything that will raise my dopamine levels to produce that same "high" feeling my original addiction gave me. Often times, people replace the drug or alcohol with money, work, sex, or gambling. I have seen many people fall prey to substituting their former addiction with a new one shortly after leaving rehab.
There are a few ways to identify and correct engaging in cross addictions: Are you ignoring other areas of your life to partake in this activity? Lying to keep this activity your own little secret? Are you constantly thinking about the next time you will be able to engage in this activity? Work a Spiritual Program: If someone is involved in a spiritual program (i.e. 12-step fellowship), they should be armed with a new sense of self-awareness and honesty about themselves, which should allow them to recognize that they are heading down a dangerous path. Build A Strong Network Of Peers To Hold You Accountable: Many people surround themselves with old and new peers that don't understand recovery, or don't care to. Forming relationships with like-minded peers that are willing to hold you accountable for potential dangerous actions will help you stay on course and help you identify problematic behaviors. Find A Healthy Balance In Life: Recovery is a journey of personal growth. That means appropriate time should be committed to family, friends, work, spiritual program, and some personal time. If someone is devoting too much time to one area, they are ignoring another important area in their life.
Relationships: Early recovery is a time to get to know oneself. Often times, people are struggling with low self-esteem, experimenting with boundaries, and grieving their former life. Developing a strong sense of self is one of the most difficult challenges people face in recovery. Date Yourself: When was the last time you did something you enjoyed? Do you even know what you enjoy? In addition, we forget how to play, how to laugh freely, and how to be present in the moment. Get in touch with your inner child and play "drums" on your pots and pans while a friend lays down a beat; or, build a sand castle, rollerblade, play laser tag, be creative. At first, you may feel silly, but the goal is to learn about the person you lost during your addiction. Ask for Help: I remember being embarrassed and ashamed when I needed to ask someone for a ride to work, or asked someone that seemed interesting for their phone number. I would often hold onto the phone number without calling for weeks, then I would rationalize: They probably don't remember who I am anymore, before throwing the number away. The reality is that everyone in early recovery struggles. Everyone in early recovery needs good supportive friends that understand the emotional journey they are going through. Frequently, we return to social isolation (a behavior we were quite familiar with during our addiction) out of fear of rejection. Becoming vulnerable and leaning into the discomfort has been key in developing some of my most fulfilling relationships today.