The "Tripping Cure"
The father of modern psychotherapy, Sigmund Freud, once referred to therapy as the "Talking Cure." Could it be that we are on the cusp of a revolution in our field with the advent of the "tripping cure" – psychedelic-assisted psychotherapy? Well, thanks to some recent and very promising research results, we are getting closer to finding out. Especially in the context of addiction treatment, psychedelics are emerging as a powerful clinical tool.
However, despite recent gains, much work still needs to be done before your community doctor is willing – or able – to offer you a trial dose of the "tripping cure."
History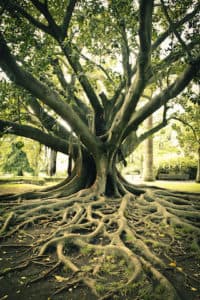 Psychedelics and psychoactive drugs have been used for millennia in traditional healing and shamanic contexts.  Psilocybin-containing mushrooms, ayahuasca, and Iboga all have long and rich histories in their respective cultural traditions, and have been used for purposes of healing and rites of passage ceremonies for centuries.  
More recently, after the discovery of LSD by Albert Hoffman, as well as the famous experiential reports of mescaline by Aldous Huxley, Humphrey Osmond and others, the therapeutic potential of psychedelics was identified immediately by the Western medical community and was quickly applied in the context of addiction therapy.  Unfortunately, the prohibition of all psychedelic drugs during the height of the drug war brought this burgeoning field to a screeching halt.  This prohibition persists today, though we are starting to see legitimate research being proposed, approved and published, with results that are grabbing headlines throughout the world.
A Word on Terminology
Technically, "classical psychedelics" all act on the a specific subset of neurotransmitters in the brain – the 5HT2A or, serotonin 2A, receptor system. This includes LSD, Ayahuasca, mescaline and psilocybin.  However, the term psychedelics is now commonly and scientifically applied to a wider range of substances (formerly referred to as hallucinogens) that includes MDMA (Molly, ecstasy), ibogaine, and others.
Many other terms had been offered for this class of substances, including psychomimetics, mysticomimetics, and others. Early proponents noted that these drugs do not necessarily induce hallucinations or psychosis in the strictest sense of those terms.  Thus, "psychedelic" seems to have stuck and is now being used even in the context of published, peer-reviewed scientific journal articles.
Psychedelics Currently Being Explored as Therapeutic Tools
A Matter of Time
Other psychedelics like MDMA are seeing some significant progress in clinical trials and are incredibly close to gaining FDA approval for Phase 3 research, especially as a treatment for PTSD. It is hard to imagine why anyone would object to having more options for the treatment of severe and chronic psychiatric conditions. And yet, here we are in 2016 with legitimate research slugging along at a snail's pace, thanks primarily to the US government's refusal to fund or approve of psychedelic treatments.
For the moment, this means that we cannot say for certain which of these drugs work, why and for which conditions. It seems clear though that it's just a matter of time before these questions are answered and the treatments themselves make their way to a clinic near you.

Images Courtesy of iStock