The Effects of Substance-Related School Suspensions
Jessica was busy at the office preparing for an upcoming presentation. Her workload was heavy and she had spent daunting hours putting in overtime. She felt a pang of guilt, as she hadn't been able to spend as much time as she would like with her family. But once this project was finished, she promised to do something special and devote extra time to them. Little did she realize, this promise had been broken too many times in the past to count.

While lost in thought, her office phone rang. "Hello?" "Ms. Jenkins, this is Ms. Smith, the Assistant Principal at your son's school. I am calling to let you know your son was found in possession of drugs and we suspect he is currently under the influence. We need for you to come to the school."

Jessica swallowed down the lump that had begun to develop in her throat. "I'll be right there…" she replied. Shocked beyond belief, she slowly hung up the phone and bowed her head in desperation. "What has he done?" she whispered as she gathered her belongings and made the long, agonizing trip to his school.

While in route she thought about his future, college acceptances, and lost scholarship opportunities. Finally, she made it to her destination and pulled into a parking spot. "What was he thinking? " she asked as she made her way to the main office to see what kind of mess her son had stirred up this time…
If you have ever been in this situation, you too know that nauseating feeling of finding out your teen has made a potentially life altering decision.
Jarred to Reality
Drugs coupled with school can result in major consequences.
Unfortunately, educational statistics specific to drugs and school suspensions, are hard to monitor…-Raychelle LohmannPossession of drugs and drug use in school can lead to a suspension (temporary removal from school and school activities) or worse yet, expulsion (permanent removal from school with no services).
Unfortunately, educational statistics specific to drugs and school suspensions, are hard to monitor, partly because there is a lack of specificity and transparency in drug reporting among schools nationwide. However many students each year find themselves facing disciplinary consequences due to drugs.
So how on earth, as a parent, would you handle Jessica's situation? Below are some key things to do if you or someone you know has encountered academic disciplinary action related to a drug offense.
When you arrive at school:
Remain calm and gather all of the facts from administration.
Discuss at length the consequences your teen is receiving. If your teen is being suspended find out the amount of time he/she will be out of school. If the recommendation is for long-term suspension with referral to an alternative school setting or expulsion find out what the appeal process involves.
Ask whether or not your teen is being legally charged. Many schools use "school resource officers" also known as "SROs" who may charge your teen for drug possession.
If court charges are brought forth and it's not your child's first offense, you may want to consider speaking with an attorney.
Get copies of all documentation i.e., suspension papers, parent/student rights information, etc. before leaving school.
Dealing with your teen on the way home:
Remain calm. If you are uncontrollably angry, don't speak with your teen. Take long deep breaths and distract yourself with music while you cool a flaring temper. When you get home, if you're still upset send your teen into another room until you can get your emotions and thoughts together. The worst thing you can do is launch into a lecture, especially if your teen is intoxicated.
If you suspect something more than alcohol, you may want to swing by your healthcare provider's office for a drug screening.
When the time is right and you're ready to address the situation, be prepared to listen. Find out what led your teen to make this decision. Plus find out how long has he/she been involved with drugs?
Make a game plan to get help. Regardless of whether or not this was a first time incident, your teen chose to use drugs for a reason and he/she may not be fully open with you about what's going on in his/her life. Now that your teen's use has been exposed, he/she may be more vulnerable to discussing the situation that led to the behavior and more willing to seek your help.
Keep the lines of communication open. The teen years are difficult. Make an extra effort to spend one-on-one time with your teen and build a sustainable relationship.
A Look to the Future
So now that you've dealt with the situation, you may be thinking how is this going to affect my teen's future? Your teen may be asking the same thing.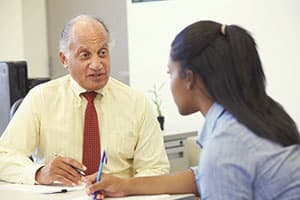 One of the most common fears reported by parents and students is how is this going to affect college acceptance? In truth disciplinary measures such as drug-related suspensions are usually reported on college applications. There are questions on applications that ask whether or not the applicant has ever been suspended or expelled from school. That question is asked of the applicant and often verified by a school official. So, while it may be tempting for a teen to check "no", the question may be cross referenced with a school official's response and the consequences of falsifying information will most likely lead to denied admission.
If a "yes" is marked on the application, it is not uncommon for schools to request a letter pertaining to the incident from a principal or counselor, or you can ask for a letter to accompany the application. If your teen has done a turnaround, this letter can be a saving grace. College representatives will look closely at the contents of the letter as well as how it speaks to the applicant's character.
Bear in mind college admission committees understand that many of their applicants are young and capable of making poor choices. They aren't in interested in punishing your teen, but rather they want to know that this behavior was an isolated incident and not a current reflection of his/her decision making skills.
…It was one week after that eye opening phone call. Jessica's son was still at home serving his five day suspension. She recounted the scenes of the past week in her mind. So much information about her son's past had been disclosed. He was now in counseling and she was making it a point to leave work earlier each day.

Perhaps it took this turn of events to get to the place they were now. Maybe she wouldn't have been so willing to listen to her son or possibly he wouldn't have opened up if it weren't for this incident. Regardless, one thing was for certain: her son was still young and could turn this circumstance into a positive learning experience. While this situation wasn't an easy one to work through, it wasn't the end of the world either. Looking back, much worse things could have happened. Now was the time to move forward and help her son get back on the right track.
Parents, if you suspect your teen is involved with drugs, please seek help immediately. Rehabs.com has an extensive list resources and rehab facilities in or near your area that can help. Don't wait until it's too late.
Image Courtesy of iStock