Summer Self-Care Ideas
Welcome to summer 2019! Often we associate summertime with feelings of excitement and happiness. Regardless of how you feel about summer, it is important to implement your own self-care routines throughout the summer that work best for you.
This article will outline a few summer self-care ideas that you can choose to include in your own self-care routines.
Spend time in the sun
Sunlight activates certain areas in the retina of your eye, leading to the release of serotonin. Serotonin is linked to uplifted moods and increased levels of calm and focus. While spending a bit of time in the sun this summer, you may notice that your mood is boosted, and you may also feel more at peace and more attentive.
Plan a trip, big or small
Whether it's exploring an area of your own city or planning a day trip to the beach or planning a trip across the country, any trip you plan can be an opportunity for relaxation and for reenergizing yourself. Often taking a vacation break from your regular cycle of activities will result in a more calm state of mind; taking time for yourself is essential for your wellbeing.
Take a break from technology and immerse yourself in nature
Put down your phone for a day, and spend time in a nearby forest or go on a hike. Pay attention to the sounds and sights that you notice. Listen to the wind, the birds, and the trees. When we let go of our technology distractions, we are able to be mindful and aware of our surroundings and the nature around us at a significantly greater level.
Spend time near bodies of water
Oceans, rivers, and creeks are incredibly calming aspects of nature to immerse yourself in. "Blue mind science" actually proves that there are health benefits to us from spending time near water. Being near bodies of water can lead to a meditative state "that makes us happier, healthier, calmer, more creative, and more capable of awe". Water is not only considered the source of life, but also is linked to incredible emotional health benefits – just by being on or near water.
Go for a walk, run, or bike ride outdoors
Whether you choose to take a walk by yourself or with friends, the mental health benefits associated with simply going for a walk are long-lasting. One study found that the positive effects of a single exposure to nature – such as going for a walk outdoors – have the potential to last seven hours after you experience it. These "positive effects" boost our mood and allow us to feel happier. Adding in a walk outdoors to your routine can be done in a variety of ways. You can choose to walk to work or school, walk your dog in the mornings, or take a run or bike ride at any point in your day; it will leave you feeling more uplifted.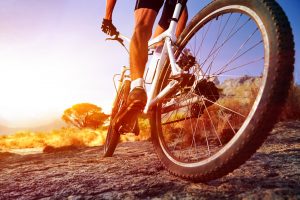 Beyond the healthy exposure to nature, being active releases endorphins in your body which further uplift your mood and enhance your wellbeing.
Make a fruit salad
Summer is the perfect time for this! One study has also found that raw fruits can lead to improved mental health and positive mood. Take some time to channel your creativity and make your own fruit salad; not only are they delicious to eat, but they are also fun and artistic to make.
Picnic or eat lunch outside
Exposure to sun and nature, as mentioned before, have significant benefits for our mental health and wellbeing. If you have the option, choose to eat lunch outside and immerse yourself in your surroundings. You will leave feeling calmer, more uplifted, and refreshed.
Take advantage of this summer and practice self-care in ways that work best for you. Use the self-care ideas outlined above as inspiration for building your own wellness routines.