Stereotypes, Stigma, and Stories of Resilience: Changing Perceptions of Addiction and Mental Illness
Media coverage of addiction and mental health problems too often plays to the stereotype, depicting those who can't lick their problems or have tried and failed. In what's been called a ground-breaking study (see details below) about the impact of how addiction and mental illness are portrayed, Johns Hopkins researcher, Emma McGinty, Ph.D. and colleagues note, "Studies analyzing the content of news and popular media have shown that the majority of individuals with mental illness and drug addiction depicted in the media exhibit deviant or abnormal behavior… In contrast, few news stories, television programs or movies portray individuals who undergo successful treatment for mental illness and addiction."
In turn, other research has revealed that public attitudes about groups of people affected by health and social problems are strongly influenced by news and popular media depictions of specific individuals who "exemplify" the problem in question, suggesting that such depictions may add to widespread stigma and discrimination.
Indeed, national surveys reveal that many Americans are unwilling to have someone with mental illness or substance problems as a work colleague or neighbor, and more than half believe that people with alcohol and drug addiction or schizophrenia are likely to be violent toward others.
Despite recent anti-stigma efforts attempting to educate the public to recognize addiction and mental illness as biologically based and, therefore, similar to conditions like heart disease or diabetes, an important study suggests that stigma has not decreased.
Published in 2010 in the American Journal of Psychiatry, researchers compared levels of stigma associated with alcohol dependence (addiction), schizophrenia, and major depression in 1996 with those in 2006 and found that overall, "No significant decrease was reported in any indicator of stigma, and levels remained high." Of the 630 people surveyed for their views on alcohol dependence, the percentage believing it was a brain disorder increased from 38 percent to 47 percent over that decade. However, the percentage who thought alcohol dependence was linked with "bad character" actually increased significantly, from 49 percent to 65 percent.
Focusing on Success Stories
From the outset of my book writing, I wondered, "Why don't we pay more attention to success stories?" More than two decades ago, stories of resilience became my "trademark" for writing books, starting with the Thin for Life book series about adults who lost significant amounts of weight and kept it off. From there, I moved to recovery success stories in Sober for Good – about more than 200 people who had, on average, 13 years of sobriety. My mission was to understand how such people changed and, in turn, to use their stories and methods to motivate and inspire others.
What if such stories could also change stigma and discrimination experienced by people with such problems as addiction and mental illness? That's what Dr. McGinty and her colleagues wanted to know.
From the outset of my book writing, I wondered, "Why don't we pay more attention to success stories?"-Anne Fletcher In the first study ever to assess among the general public how portrayals of people who undergo successful treatment for mental illness and drug addiction influence levels of stigma and willingness to discriminate – as well as views about treatment effectiveness and support for policies that benefit such people – they randomly assigned various written vignettes to a nationally representative group of nearly 4,000 people. (This is a similar type of methodology used in the American Journal of Psychiatry study mentioned above.) The vignettes depicted a woman with either schizophrenia, major depression, prescription painkiller addiction, or heroin addiction, and she was either portrayed as neutral (the "control" condition), the same but drug-addicted or with a mental illness, or as having had these disorders but now in recovery through treatment. After reading the vignettes, respondents answered questions about their attitudes concerning mental illness or drug addiction.
Published in the journal Social Science & Medicine, the study showed that portrayals of untreated, active heroin addiction or mental illness, but not untreated pain medication addiction, heightened desire to be socially distant from such people. In contrast, portrayals of successfully treated schizophrenia, prescription painkiller addiction, and heroin addiction led to less desire for social distance, greater belief in treatment effectiveness, and less willingness to discriminate in such cases. While acknowledging that reacting to a short vignette as part of a study is not the same as an encounter with someone with real-life addiction or mental illness, the authors concluded, "Portrayal of persons with successfully treated mental illness and drug addiction is a promising strategy for reducing stigma and discrimination toward persons with these conditions and improving public perceptions of treatment effectiveness."
Support for "Making Recovery Visible"
As noted in its coverage of the McGinty, et.al. study in Drug and Alcohol Findings magazine, a British on-line publication, "This groundbreaking study offers support for one of the main planks of the recovery movement in the UK as well as in the USA – that in the words of the UK Recovery Federation, 'Making recovery visible' will help destigmatise problem drug users, as well as offering hope and a route for others to follow." In the U.S., this movement is largely supported by the efforts of Faces and Voices of Recovery and the related Anonymous People/Many Faces1Voice movement that encourages people to proudly "come out" with their recovery stories.
Interestingly, the recovery depicted in both addiction vignettes entailed long-term remission through continuing treatment, which helped keep "her symptoms… under control." The Drug and Alcohol Findings commentary about the study concluded, "The most powerful finding is that for both addiction vignettes, portraying someone successfully in remission led more people to say they would accept an addicted person into their lives, even though that person was not described as having also overcome their dependence."
In other words, members of the general public tended to be accepting of remission in which the person wasn't necessarily completely abstinent at all times.
How might real-life stories impact stigma and discrimination?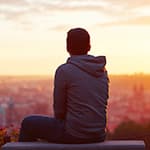 When I wrote about people who lost weight and kept it off (in Thin for Life) and those who had long-term sobriety (in Sober for Good), one of my major goals was to boost self-efficacy of others still struggling with these issues. Self-efficacy is believing that you have what it takes to accomplish a particular task or overcome a problem.
When I asked experts how to increase a person's sense of self-efficacy, including the leading authority on the topic, Stanford University's Albert Bandura, Ph.D., they told me, "Show them successful role models, others who have struggled to master situations that you fear or see as difficult."
As noted, the study by McGinty and co-authors did not involve real-life scenarios, but its findings lend credence to the notion that stories of people who have "been there" and overcome their substance use and mental health disorders may also lower stigma and discrimination. Following are some real-life stories of people I interviewed for Sober for Good who had long ago gotten on top of serious alcohol problems:
Elena G. was once a quart-a-day hard liquor drinker who hid bottles in secret places, experienced regular blackouts, and constantly fought with her husband. Her turning point came after awakening from a blackout and finding a note from her nine-year-old tucked in her shirt that said, "Dear Mom, I love you so much. I wish you would stop doing this because I'm afraid you're going to kill yourself." That night, she went to an AA meeting and continued to remain abstinent with AA's help through the first year. After that, she stayed sober on her own – when I interviewed her, it had been more than a decade. She became a successful plus-size model and even appeared on Oprah.
Phil Q. used to drink a nightly pint of bourbon, then moved on to wine with dinner, and finished things off with a pint or more of scotch. (The whole time, he was on the career fast track, working for various prestigious publishers.) After two drunk-driving arrests, in order to avoid jail time, he quit drinking and went to a month-long treatment center and then to six months of AA meetings. After that, he stayed sober on his own and had happily remained so for 14 years, when our paths crossed. He told me that soon after he quit drinking, incredibly good things started happening – for instance, his chronic insomnia got better, he liked himself better, and his wife became willing to adopt two children. He eventually was able to get in his life "that state of near-bliss" that he once sought with alcohol, and "the plusses so far outweigh[ed] the minuses."
Charles G., sober for six years when I interviewed him, drank a bottle of Scotch a day at his worst. He had been depressed and overweight, his relationships with his wife and children were poor, and he didn't like himself. After his wife threatened to leave, he went to a month-long 12-step-based residential program where he started to exercise and read various books about recovery. Soon, he "used a change of habit and ritual" involving regular exercise, meditation, and a re-discovery of the Christianity of his boyhood. He also became a leader in SMART Recovery. It all helped him "grow a new business and become successful."
For an inspiring and heart-warming story of resilience from both mental illness and substance problems – as well as about how she's broken through the stigma of these issues – listen to the story of Giulietta Carrelli, (aka "Trouble") on this podcast from "This American Life": (about 38.5 minutes into the story) Or you can read about her in this article from the Pacific Standard

Image Courtesy of Unsplash-Joshua Earle