Smart Recovery Passes Major Milestones
SMART Recovery®, a major alternative to Alcoholics Anonymous and Narcotics Anonymous among support groups for people with alcohol and other drug problems, recently passed two major milestones. Not only did its worldwide number of meetings cross the 2,000 mark early this year – with 1,000 of those meetings in the U.S.– but the largest and one of the few rigorous studies involving SMART Recovery was recently published.*
Twelve-step groups such as AA and NA are the most commonly known support groups (or mutual help groups, as experts prefer to call them) for people with substance problems. But alternatives, including Women for Sobriety, Secular Organizations for Sobriety, LifeRing Secular Recovery, Celebrate Recovery, Moderation Management, Health Realization, Harm Reduction Network, and SMART Recovery, have been around for a long time. Unfortunately, not enough people know about them, in large part, because most substance use disorder treatment programs involve AA in some fashion, and few tell participants about alternatives. Moreover, when research is conducted on support groups, it most often involves AA.
SMART Recovery cites other resources supporting its effectiveness here.
Marked Recent Growth of SMART Recovery
I first started writing about addiction back in the late 1990s when I was doing background research for Sober for Good, a book about more than 200 people with at least five years of sobriety.
…the number of SMART meetings has nearly doubled in the past three years, not including meetings held online, with close to 500 launched in 2015 alone, and 300 started the previous year.-Anne FletcherSMART Recovery, founded in 1994, was so new at the time that I made some exceptions to the five-year requirement in order to allow SMART participants who had at least several years of sobriety to take part in the book. And SMART growth was slow but steady during its first 15 years or so. However, the number of SMART meetings has nearly doubled in the past three years, not including meetings held online, with close to 500 launched in 2015 alone, and 300 started the previous year.
Much of the growth is attributed to the growing number of volunteers being trained to facilitate meetings – 1,095 in 2015. The organization credits, too, more addiction treatment centers launching SMART meetings, likely because they recognize that the group's tenets complement evidence-based treatment strategies used in treatment including cognitive-behavioral therapy and motivational interviewing.
Although most facilitators are individuals who have recovered and want to help others, many who complete the SMART facilitator training program are also professionals in the field such as addiction counselors, social workers, and psychologists. (More information about SMART's 4-Point Program, its recovery tools, facilitator training, and how to find a meeting can be found at its website.)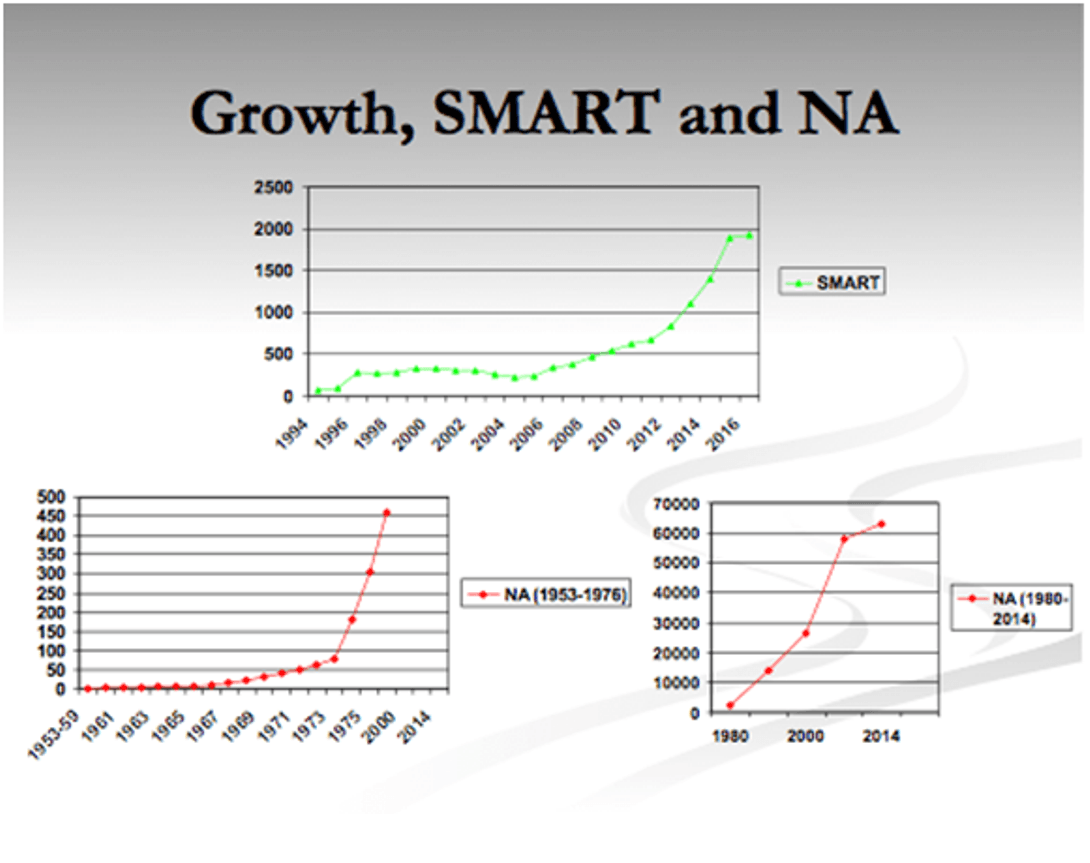 SMART Recovery's meeting growth, in green in the top graph, can be compared with NA's meeting growth, in red on the lower left. Both graphs show the initial 22 years of each organization. The lower right graph shows NA's growth after that initial 22 years. Will SMART Recovery expand similarly?
Largest Study to Date on SMART Recovery
Published earlier this year, an Australian study that involved what is called a "quasi-experimental design" including thousands of prison inmates is, in the words of SMART Recovery president, A. Thomas Horvath, Ph.D., "A substantial event in the history of SMART Recovery."
Published in the Journal of Forensic Practice and titled, Getting SMART, SMART Recovery Programs, and Reoffending, Horvath referred to the study as "the most significant evidence yet of the effectiveness of SMART Recovery as a means of assisting recovery from addiction."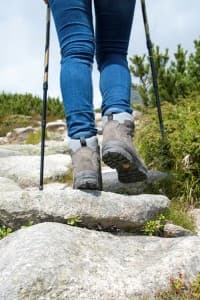 In the study, forensic psychologist, Christine Blatch and colleagues studied reconviction outcomes for prisoners with significant alcohol and other drugs problems serving sentences between 2007 and 2011 in New South Wales's prison system. (New South Wales is Australia's largest state.) Note that between 2007 and 2008, 70 percent of males and 79 percent of females had engaged in illegal substance use in the six months prior to incarceration. And problematic substance use increases the risk for re-offending.
The researchers followed 2,343 prisoners who were enrolled in Getting SMART (an adaptation of SMART Recovery for prisoners), 233 who attended regular SMART Recovery meetings, and 306 who attended both types of meetings. Many of these offenders also participated in other treatment programs while in custody, including AA, NA, a general drug and alcohol abuse program, literacy and vocational programs, individual therapy, and other specialized programs.
Using a complex formula to match them as closely as possible to the SMART subjects, the researchers also followed another 2,882 prisoners who attended neither SMART group. Altogether 5,764 individuals (the sum of the previous numbers) were included in the study, with 2,882 individuals participating in one or both SMART programs. Horvath said, "This large sample allows for a high level of confidence in the broad conclusions of the study."
The study mainly attempted to determine what proportions of these inmates had a reconviction, how long it took for that to occur, how frequently they were reconvicted, what minimum exposure to these programs was needed to get benefits, and whether participating in both programs improved outcomes.
The major and statistically significant findings of the study were as follows:
Getting SMART is an effective intervention for this population with more favorable reconviction outcomes than any other drug and alcohol programs inmates attended, based on time to any new conviction.
Attending Getting SMART first, followed by attending SMART Recovery, was more effective than either alone.
Getting SMART increased the time to reconviction and reduced the rate of reconvictions. Particularly notable, Getting SMART was associated with a 30 percent reduction in violent crimes, and attending Getting SMART and SMART Recovery combined reduced violent crime by 42 percent.
The minimum amount of treatment to be effective was 10 to11 sessions.
The Future of SMART Recovery
While we don't yet have enough studies to declare SMART Recovery an evidence-based treatment in and of itself, it is based on and teaches multiple evidence-based principles. Horvath said, "SMART Recovery is well on the road to being an evidence-based intervention."

Images Courtesy of iStock

Parts of this article were adapted from "The President's Letter," which appeared in SMART Recovery's News & Views, April 2016.