Setting Priorities and Reframing the Holidays
From my earliest memories, I loved the holidays – staring at electric candles in the windows and big colored bulbs on the tree, then imagining that I heard Santa's bells on the roof on Christmas Eve. However, as I grew older, the holidays became entwined with a sense of melancholy and often depression. I'm not sure why. But perfectionistic burdens I placed upon myself – such as having to make arty homemade cards, gifts, and a plethora of treats (including blond fruitcake that people actually like) for everyone close to me – didn't help. It feels good to have let this go quite some time ago.
Perfectionism and attempts to recreate "what used to be" (or should have been) can create a lot of sadness and, in turn, high-risk situations for people dealing with drug and alcohol issues. "Shoulds" and to-do lists also burden people as they deal with myriad social situations, shopping, decorating, and family interactions such as tensions between relatives and who takes turns going where and when.
One of the things that can cut down on holiday stress is using a three-list strategy to triage the "to-dos" at holiday time – or any time of the year.
The Three-List Strategy
I started out by using the following three-list strategy for myself when feeling overburdened, then began suggesting it to stressed-out clients when I worked in obesity treatment and now, as I work with people struggling with substance use disorders. One begins by making a list of all the things you feel you need to do in a given period of time, perhaps in a day, then breaking the list into three parts as follows:

Things that have to get done – for instance…
Getting the dog to the vet
Attending your teen's holiday concert
Stopping for milk because you're out of it
Going to your child's school conference
Getting to the bank
Seeing your probation officer
Things that can wait – for instance…
Decorating the tree
Making cookies
Cleaning the kitchen floor
Addressing holiday cards (Would the world end if you sent them after the holidays?)
Getting the car's oil changed
Balancing your checking account
Whatever winds up on this list, ask yourself if the task ever has to be done or if you can delegate it to some else.

Things I want to do for me – for instance…
Get my hair cut or restyled
Fit in a workout or yoga class
Write in my journal
Watch my favorite TV show
Visit an old friend you haven't seen for a while
Buy something nice to wear for a holiday gathering
In the end, it's essential that you make sure to do at least one item on the "Things I want to do for me" list each day or on a regular basis.

Reframing the Holidays
Many people have trouble accepting that the holidays are not going to be what they used to be. Perhaps they've alienated family members because of behavior related to substance use and are having trouble regaining ground, even if they're sober.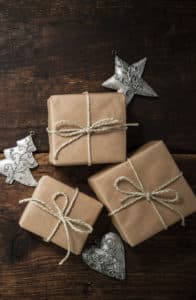 Family members may have moved on while the person with a substance use disorder hasn't or is just starting to. For instance, a parent who is newly sober from an alcohol use disorder that distanced the parent from his adult children may have trouble blending back in and accepting that the children have established their own quite different holiday traditions from those of their childhood.
The parent may need professional help with "letting go." It's important to help the family members like this understand that it takes time to heal and that they can't just pick up where they left off, expecting the holidays to be as they were in the distant past.
Relatives of a newly sober person may not know how to act. For instance, if someone just got out of treatment should they ask questions about the experience? What about serving alcohol at a gathering? I think it's best to discreetly ask the person what he or she prefers instead of tiptoeing around. And loved ones should be ever aware that the holidays can be very hard for someone, particularly in early recovery, when it seems the whole world is alive with celebrations involving alcohol. Still, involving the loved one in family activities and providing support without being over solicitous are essential.
Images Courtesy of iStock