Seasons and Mental Health: Self-Care Unique to Each Season
Seasons and Mental Health: The Connection
We often hear that certain seasons are associated with greater wellbeing and others are associated with a diminished sense of wellbeing. Besides humans' individual seasonal preferences, there are also valid mental health challenges that arise as a result of seasons changing. Seasonal Affective Disorder (SAD) is real, and it is a type of depression that relates to the change in seasons. Typically, people with SAD are symptomatic during the winter months.
Seasonal mental health challenges, such as SAD, are real and treatable. This article, however, will be taking a different angle in order to outline mental health benefits that can be found within each season. These benefits are not meant to be seen as cures to the valid mental health challenges that people face as a result of changing seasons. Rather, these benefits are an optimistic perspective on seasons-changing that can aid in our perception of how seasons impact us. This article can be seen as a spotlight on self-care practices or opportunities, as they relate to each season.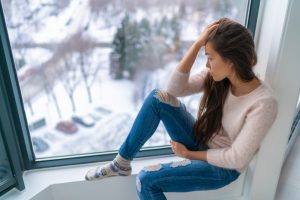 Spring
Spring can be known as a time of rebirth, rejuvenation, growth, and blooming. Spring can naturally make us feel more re-energized. Ideas for self-care practices in the spring:
Go for a mindful walk outdoors in nature: observe the growth and blooming.
Reorganize and clean your workspace or living area.

Get rid of items that are old, expired, or no longer of use to you. Bring in appropriate replacements of new items wherever you see fit. Reorganizing and cleaning in general can be a very therapeutic process.

Create a spring music playlist with an up-to-date list of your favorite songs and tunes.
Invest in a reusable water bottle, and try to drink more water throughout each day.
Go on a picnic with friends or family members.
Summer
Summer is the time for adventure, sunshine, outdoor exploration, reflection, and exploration.
Immerse yourself in nature and take advantage of the weather by engaging in active exercises – walks, hikes, or runs – outside.
Visit the beach or the lake with friends or family. Spending time near bodies of water can naturally elevate your wellbeing.
Plan a vacation or a staycation.
Start or continue a journal. Check-in regularly and reflect on how you are feeling.
Explore events going on in your community. Summer may be a time where your community hosts outdoor movie nights, farmers markets, or other types of community gatherings.
Autumn
Although autumn may be a stressful time, with busier schedules, colder weather, and the holidays around the corner, there are many opportunities to incorporate necessary self-care into your routines.
Enjoy the autumn leaves and colors: take a mindful walk outdoors and appreciate the changing aspects of the season.
Have a warm drink, journal, and reflect on how you are feeling. Consider keeping a gratitude journal.
Set boundaries for yourself: prioritize yourself, and do not overcommit to activities as much as possible.
Declutter your surroundings, especially if you find yourself spending more time indoors.
Engage in creative ways to move your body and remain active: start an indoor workout or yoga routine.
Winter
Contrary to the popular outlook on this season, winter encapsulates many unseen or undervalued aspects that can be uplifting for your overall wellbeing.
Cozy up under a blanket and read a book.
Go outside and immerse yourself in the winter air: be mindful of how the weather makes you feel.
Ensure that you are getting enough sleep, as winter can become overwhelming and busy with activities.
Rather than "hibernating" during the winter, keep up your exercise routine from the autumn, or try something new entirely. Even light exercise a few times per week can significantly elevate your wellbeing.
Connect with your peers and hold restorative storytelling discussions around a fire outdoors or indoors. Embrace the coziness of winter.
Throughout all the seasons, the most important thing to do is to remind yourself often of the importance of checking-in with your wellbeing and making time for yourself. Use this breakdown as a reference to help you plan for self-care and mental health awareness in every season.
Do not hesitate to ask for help or seek professional resources at any time when you feel you need this: you are not alone, and help and hope are real.
_____
Photos Courtesy of Shutterstock