Rural Whites, Addiction, and Despair
Donald Trump's courtship of poor rural white people with no more than a high school education was crucial for his election. Had he been unsuccessful with this demographic, he may not have won the election. He attracted them by appealing to and trading off a deep sense of powerlessness and despair verging on fatalism. These have enormous political power when harnessed.
That sense of powerlessness, despair, and fatalism are physically manifested in health and wellbeing. The health of poor rural white people has been in the news in the last year. Professors Angus Deaton and Anne Case of Princeton University in a published study analyzed health and mortality data from the Centers for Disease Control and Prevention (CDC) as well as some other sources. They identified a sharp increase of the deaths of white people ages 45-54. Suicide, cirrhosis, and overdoses of opioids and heroin are the primary causes driving that massive increase. In 1999, the mortality rate was 134 per 100,000. In 2014, the rate was 415 per 100,000. While this is still significantly lower than the mortality rate for middle age blacks (581 per 100,000), the gap is quickly closing.
Escalating Death Rates
An article in The New York Times analyzed nearly 60 million death certificates collected by the CDC from 1999 to 2014. The analysis revealed that, in 2014, the overdose death rate for whites ages 25 to 35 was five times its level in 1999, while the rate tripled for whites ages 35-44 during that same period. The rates of overdose deaths for black adults in those same age cohorts only edged up slightly, however.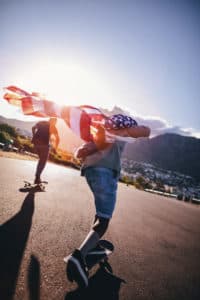 According to the American Society of Addiction Medicine, opioid addiction is driving the increase in drug overdose deaths for all racial groups, but especially whites. In 2014, there were nearly 19,000 overdose deaths from prescription pain medications in addition to nearly 10,600 deaths from heroin overdoses. Overdose rates have increased four-fold since 1999. In the good news/bad new category, the number of people seeking treatment for addiction increased six-fold from 1999-2009.
There are also gendered dimensions to the escalating death rate of white people. White rural women are faring significantly worse than urban and suburban women. An article in The Washington Post analyzed data that revealed rural white women in their 40s are dying at a much higher rate now than in 1999. The rate has increased from 228 per 100,000 to 296 per 100,000 in the year 2014. In the twenty-one hardest hit counties in the south and Midwest United States, the death rate has doubled.
Compare a map that shows the areas of the United States that voted for Donald Trump to a map that shows the areas where the death rates of whites have risen dramatically. The maps overlap to a breathtaking degree.
Cause and Consequence
Addiction is both a cause and consequence of various forms of suffering. Rural white people are clearly suffering in very real tangible ways. There is an abiding pessimism that things will get better, which leads to hopelessness in the present and utter despair for the future. Jobs have disappeared as have small towns and cities. Young people are fleeing rural areas looking for employment and other opportunities in life. There's a sense that the economic recovery since the 2008 meltdown has passed them by.
Many older white people are finding themselves caring for their grandchildren. Best numbers indicate that more than two million children are being raised by grandparents. On a limited income that may not meet their own needs, never mind the expenses of raising a child, many older white Americans are experiencing an insecurity they believe themselves to have already successfully navigated. Additionally, older people experience more, different, and chronic health concerns that only increase as they age. Some will be caught in an excruciating double or triple bind of caring for their grandchildren, children, and parents…as well as caring for themselves.
Then there is the associated emotional pain that addiction can wreak on families. The addiction of family members becomes the axis around which people's lives turn. It can be profoundly disorienting and just plain crazy-making. All of this pain and suffering causes what I call an existential concussion.
An existential concussion occurs when a person's worldview and reality are severely rocked. Many of the old ways of making sense, meaning, and value no longer work or are unavailable. It is part of human nature to want to be able to make sense of things, and some sense is better than no sense.-Peg O'Connor
It is far too early to tell what effect Donald Trump's election will have on poor, rural white people. One immediate concern is the Affordable Care Act (ACA) and its provisions for addiction treatment. Trump's campaign consistently called for the repeal of the ACA. Now as President-Elect, Trump has chosen Congressman Tom Price, who is also a physician and one of the most outspoken critics of the ACA, to head the department of health and human services. If the ACA is repealed, access to treatment will be sharply constrained. (Notably, it is already sharply constrained in rural areas where there are few physicians qualified to participate in medication assisted treatment.)
Just as relevant is the bipartisan Comprehensive Addiction and Recovery Act (CARA) signed by President Obama in 2016. This legislation addresses not only treatment and recovery efforts in a more comprehensive and coherent way but just as importantly, has a strong focus on prevention and education. However, monies for these CARA programs must be sought every year through the appropriations process. There is potential that these programs will never be funded adequately.
Strange Bedfellows
Politics and addiction mix interesting ways; they do make strange bedfellows. Addiction has been politicized but we must never lose sight of the fact that addiction is a form of suffering. It is a form of suffering to which anyone is vulnerable whether the addiction is their own or that of a loved one. The fact that no one is immune may be just enough of common ground to do some serious work together to alleviate the suffering that is addiction.
Images Courtesy of iStock