Putting Space Back Down
The term "holding space" is thrown about quite a bit these days, in both clinical and other kinds of circles, such as activist communities.
While I'm sure it means slightly different things to different communities, my best understanding is that holding space is simply being with someone who is crisis, without judgment and without unsolicited advice.
From Crisis Mode to Abatement
In the midst of a crisis, most people just want to do something. Sometimes the best advice is, "Don't just do something, stand there." Holding space means standing there calmly in the pain, without being overwhelmed by it and without trying to talk the person out of their pain.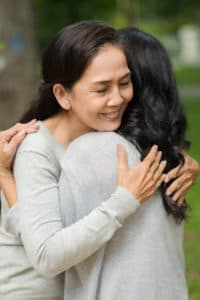 We who are clinicians, harm reduction activists, or even just your family public health expert, are often called into crisis situations. We are expected to know what to do, to model the behaviors. We are expected to shelve our own emotional needs for an indefinite period of time while the person who is the center of the crisis is stabilized.
Then the crisis abates, and we're all supposed to go back to our real lives, right? But things have changed.  Confidences may have been exchanged and may have been broken. Boundaries are often stepped over in crisis, especially when the crisis is life and death. Whether we are in a clinical situation where we maintain the boundaries of our professional codes or in a family or friend situation where, due to our profession, we are deemed the spirit guide of the group, we cannot pretend that things just go back to normal after a crisis.
I had the opportunity to witness a group of friends support a loved one through a crisis recently. Nobody knew who was supposed to do what, snippy emails flew, and a life was saved. In the end, a beautiful picture of people using their different skills and empathy levels, and even their demographics, to save a life emerged.
Then it was over. Boundaries had moved. Confidences had been broken – all in the name of saving someone in a life and death situation. Other emotional and time obligations had been put on hold. Everyone was a little mad.
The Concept of Putting Space Down
I suggest we adopt the term and concept of "Putting Space Down." Allowing ourselves a big sigh of relief, a little bit of anger – no matter what part we played – and a chance to reset boundaries that will inevitably change. Every family and friend group has its own sets of alliances and confidences. Let ourselves have our moment to back away if we need to, as those of us who are appointed the resident expert often find we need to. Rest and repair.
Put the space back down. Let the person who was at the center of the crisis have back their autonomy. I see too many families who try to impose further onto the loved one's boundaries once a crisis is over, making that person feel disempowered, exposed and angry. One of the members of the group I facilitate has a parent who reaches into her pocket to take the money when she gets tips on her job. This is not helpful. It's far better to back off a bit.
Those of us who find ourselves in the supporting cast of characters need to put the space down and pick our own space back up. I find that after I help someone through a crisis I need to take a few days off, put down the space, knowing that we'll figure it out later. Take back my space.
Let ourselves have our moment to back away if we need to, as those of us who are appointed the resident expert often find we need to. Rest and repair.-April Smith
New Boundary Lines
New boundaries will inevitably be drawn, and you can't pretend everything will go back to normal. I think this is especially true in families. Everyone needs a moment to figure out what just hit them. People who may not have talked in years may suddenly be in constant contact. Emails will fly. Snippy texts will be sent. It's okay.
As people who try to hold space for others, we must take our own space back. All our own rituals of self-care (mine is petting a cat while listening to eighties guitar music) need to kick back in.
And when new boundaries are drawn, I'd advise drawing them in pencil at first. There are very few hard lines in human relationships (though there are some important ones, like our professional codes) and people change faster in a crisis than they change over time. I've seen a member of my support group take on a powerful leadership role for the first time in a crisis (link to my heroin articles) involving the potential death of one of her close friends. I know that for myself, I've learned how to step back and let others lead. We are ever evolving human beings.
So put the space down…but put it down gently.
Images Courtesy of iStock