Practicing Gratitude Isn't Just Pop Psychology – It May Help With Mental Health and Addiction
Typically, I'd consider exercises such as keeping gratitude diaries or tracking daily thankfulness experiences as "Oprah things" – kind of fluffy, feel-good activities not meant for rational thinkers like me. However, when life threw me some curves and I started working at a substance use disorder treatment program that uses positive psychology approaches – including gratitude activities – my perceptions started to change. I found that I benefited greatly by changing my focus from what I didn't have to the good things that I do have and by actively looking for them. But I have to admit that I sometimes have trouble keeping the momentum going.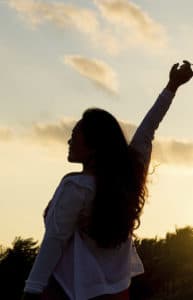 Just recently, while preparing for a client skills group on gratitude, I searched for a visual accompaniment and came across a moving TEDx talk that even made several male clients teary. The speaker is an unassuming photographer/mom by the name of Hailey Bartholomew, someone whom by outward appearances and in her own head knew she had many things to be thankful for: "a lovely husband, two healthy children…" However, she said, "I was depressed…I was struggling to enjoy my life in any way." She didn't "feel anything" for her life until after a counseling session that spurred her to start reflecting each day on things she felt grateful for – not things she should be grateful for, but what she truly felt grateful for.
In her talk, Hailey said, "It sparked something amazing within me because I started to see things I wouldn't otherwise have seen." What was sparked was a year-long project that simply involved taking a photo a day of previously unforeseen experiences and things in her life that she felt grateful for. Her photos ranged from shots of her three-year-old daughter reaching out to help her down a step to one of a jewel-like red beetle sitting on her daughter's shirt (while her daughter whined, "Get it off; get it off!") In short, she started seeing what she'd never noticed before and this became her "secret to happiness."
From there, Hailey got some unexpected publicity about her project, word spread, people started writing to her about their "grateful projects", and the 365 Grateful project was born – with website including videos and a book.
Gratitude and Mental Health
Certainly, the gratitude trend and various ways to practice being grateful have been around for a while. But there's something unique and touching about the way Hailey presents the concept in the context of her life and by doing so through the medium of photography. And, yes, I started my own 365-day gratitude project. (She got me when she said, "You find what you are looking for.") But is there any scientific evidence that practicing gratitude strategies helps people in any way?
It opens with, "Many studies over the past decade have found that people who consciously count their blessings tend to be happier and less depressed." They note, however, that most gratitude research has involved well-functioning people – typically college students.
Individuals who wrote gratitude letters reported significantly better mental health four and 12 weeks after the writing exercise ended when compared with those who wrote about negative experiences or only received counseling.-Anne Fletcher
Wondering how gratitude is beneficial for individuals struggling with mental health conditions, Wong, Brown, and colleagues recently conducted a study involving nearly 300 adults. They were primarily college students but this time, they were folks who sought mental health counseling at a university and were recruited before their first counseling session. The majority had issues related to depression and anxiety. Participants were randomly assigned to one of three groups – one instructed to write a letter of gratitude to someone else weekly for three weeks, one asked to write about negative experiences, and the other given no assignment.  All of them also received counseling. Individuals who wrote gratitude letters reported significantly better mental health four and 12 weeks after the writing exercise ended when compared with those who wrote about negative experiences or only received counseling.
Not only does this suggest that a gratitude practice can be beneficial for those with mental health issues but it indicates that gratitude practice along with psychological counseling carries greater benefits than counseling alone. Dr. Wong stated that it's important to note that the benefits of gratitude writing did not emerge right away but gradually accrued over time. Thus, it might take time for the benefits of gratitude practice to kick in.
To see if they were processing information differently, the researchers also used fMRI scanning (which uses MRI technology to measure brain activity by detecting changes associated with blood flow) to compare brain function of some of the participants who wrote gratitude letters with some who did no writing. Gratitude letter writers showed positive brain changes that may be lasting, possibly contributing to mental health later on.
Gratitude and Substance Use Disorders
Can gratitude practices help people with substance use disorders (SUDs)? Although gratitude is a consistent theme in 12-step circles, according to University of Minnesota Amy Krentzman, Ph.D., a researcher with an interest in this area, despite its widespread use, "The study of gratitude and its relationship to addiction recovery has been sparse."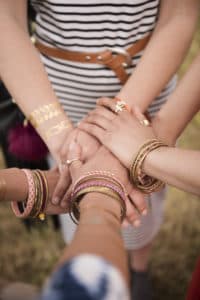 Back in 2003, the American Journal of Psychiatry published a study involving more than 2,500 male and female twins from a general population that found found that those who scored higher on measures of thankfulness had a lower risk of numerous psychiatric disorders, including substance use disorders. However, this is not the same as having people do activities such as keeping a gratitude diary.
Krentzman cites a small randomized controlled pilot study she and colleagues conducted in which a 14-day gratitude exercise involving people in outpatient treatment for alcohol use disorders found that the practice was associated with a decrease in negative emotions such as feeling angry, irritated, and upset. An increase in positive feelings – including feeling calm, at ease, and relaxed – occurred.
In a 2017 study, published in the Journal of Substance Abuse Treatment, Krentzman presented a preliminary study involving 67 people to see if gratitude would increase after addiction treatment and if gratitude after treatment would be associated with more days of abstinence six months later. For individuals with alcohol use disorders who were abstinent after treatment, the relationship between gratitude with future abstinence was positive. However, for people with alcohol use disorders who were drinking most frequently after treatment, the association between gratitude with future abstinence was negative. The authors concluded that, "Encouragement of gratitude practices for individuals with alcohol use disorders who are drinking frequently might be counterproductive." Once again, however, this was a small preliminary study.
You Can't Force Gratitude
If you're still on the fence about gratitude practices, an article titled, "Has Gratitude Become Too Trendy?" life coach, Lisa Kaplan, PsyD, PCC, says:
"You can't force gratitude… Gratitude has to come when we are ready to let it in… Gratitude is healing but not when we try to force it onto others or ourselves. There are days when finding something to be grateful for might be hard for you. If so, either choose something really simple like your favorite cup of coffee or choose to forgive yourself for not having gratitude on that day… Don't let the gratitude trend make you feel guilty for the days that you just aren't ready to be grateful.  Maybe you can just be grateful for not having to be grateful!"
Images Courtesy of iStock