Kratom Alarm: U.S. Government Privileges Pills and Attacks Plants
A recent panicked announcement from the Food and Drug Administration (FDA) demonstrates, yet again, the corrupt irony central to current U.S. drug policy.
The FDA raised two alarms: 1) chemical analysis showed that kratom contains opioids; and 2) the total number of deaths attributable to kratom had jumped from 36 to 44.
A Kratom Warning Heard 'Round the Nation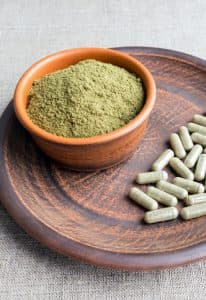 FDA director Scott Gottlieb issued an alarm that kratom is "not just a plant, it's an opioid. And it's an opioid that's associated with novel risks because of the variability in how it's being formulated, sold, and used recreationally and by those who are seeking to self-medicate for pain or who use kratom to treat opioid withdrawal symptoms. Claiming that kratom is benign because it's "just a plant" is short-sighted and dangerous.
Kratom should not be used to treat medical conditions, nor should it be used as an alternative to prescription opioids. There is no evidence to indicate that kratom is safe or effective for any medical use."
The irony, of course, is that the FDA has been so hard on kratom (which, at most, may kill about 20 people a year), while it has been so soft on prescription opioids (responsible for at least about 20,000 deaths per year).
As indicated in a previous article, the U.S. Drug Enforcement Agency shares the very same anti-plant, soft-on-pill bias.
Uses and Abuses of Kratom
Kratom is a plant in the coffee family native to southeast Asia; its leaves are brewed into a tea. It contains many chemicals, some of which bind to opioid receptors, but much more weakly than pharma's knockout pills.
In the United States, kratom is used recreationally, but it is also used by chronic pain patients and by those attempting to withdraw from opioids and other substances.
Clearly kratom is not without risks. But equally clearly, those risks are two or three orders of magnitude less than the risks posed by prescription drugs.
The FDA, the DEA, and the Justice Department all have the same fetish about the supposed dangers of plant products (think also pot), while having enabled a pharma- generated opioid epidemic that kills one thousand times more people.
It is wise to be cautious about kratom use until preparations are standardized and much more is known about indication, dosing, and risks. The same can, of course, can be said for medical marijuana.
Money Buys Power
The U.S. government is disingenuous when it focuses on the danger of plants and gives pharma a bye on the dangers of pills. Money buys power. Pharma is by far the biggest lobbyist in Washington – they spend $270 million a year to buy politicians. They also contribute almost half of the FDA budget. And drug companies lobby heavily against legalized marijuana because they see plants as competition for their pills.
The fevered FDA warning notwithstanding, we really don't know whether wider use of kratom would increase or decrease opioid deaths. We do know that legalizing pot has a beneficial impact.
Psychoactive plants should be used with caution, but it makes no sense to demonize them while being so lax with demon pharma.
Images Courtesy of iStock