Integrative Harm Reduction Psychotherapy: A Call for National Dialogue
Our Addiction Treatment System is in Crisis
We are losing the battle against addiction and its negative consequences in spite of the well-meaning intentions of most treatment providers.
The recent heart-breaking losses of Academy Award-winning actor, Philip Seymour Hoffman, to an apparent heroin overdose, and TV actor, Cory Monteith, to opiates and alcohol, have focused attention on the terrible reality of fatal drug overdose that befalls around 100 of our less well-known citizens each day. These numbers and every other measure of success disturbingly indicate that our addiction treatment system is failing to attract and help the overwhelming majority of people with substance use disorders in this country. What is wrong with addiction treatment in America and what needs to change?
What is wrong with addiction treatment in America and what needs to change?-Andrew TatarskyAs an addiction treatment psychologist with 35 years of experience helping people with these problems, I think it is high time for a serious national dialogue about what works in treating addiction and what does not. As a society, we need to "re-envision addiction treatment" (Kellogg and Tatarsky, 2012) to make it more appealing, effective and humane.
Here are some critical questions to consider: How can we make treatment more appealing to people struggling with these issues? Most don't go to treatment willingly. Many, if not most, users do not want to stop using at the time they begin to become concerned about their use. Yet, most addiction treatment facilities require that people agree to stop in order to receive treatment. Does this "abstinence-only" ideology actually prevent many people who want help from getting it? What would help people seek and stay in treatment even when they continue to struggle with active substance misuse? What are the ingredients that should be part of a "re-envisioned" effective addiction treatment for people across the spectrum of severity and readiness to change?
Does this 'abstinence-only' ideology actually prevent many people who want help from getting it?-Andrew Tatarsky
A Scientific Revolution in the Addictions Field
Crises are unstable and potentially dangerous processes in which old systems are not working and there is a need for new solutions. When harnessed and directed in creative ways, the energy and feelings generated by crises, can generate new hopeful solutions. There are already new approaches to the treatment of addiction that can be the solutions we need, but they are not widely available or known about in the general public.
Drawing on my work with addicted people and my read of the research, I have gathered together a group of ideas and strategies for understanding and treating addiction that I use in my own treatment center and in which I train professionals internationally. I call it, Integrative Harm Reduction Psychotherapy (IHRP). I believe that this approach can improve our field's effectiveness if adopted more widely. I offer below an outline of this work to spark a dialogue with my colleagues and the public at large. I will elaborate on the approach in future posts.
Integrative Harm Reduction Psychotherapy: A New Paradigm for Treating Addiction
This new model understands that addiction is a meaningful reaction to suffering. Biological, psychological and social factors are all correlated with addiction. Trauma and problems managing self-esteem and relationships are frequently present to some degree. A complex interaction of these vulnerabilities that is unique to each person gives rise to the reinforcing quality of the addictive behavior. In this context, substance use and other risky behaviors take on multiple personal and social meanings and functions that contribute to the addictive process. Common examples are self-medication of emotional pain and using a substance to confer group membership. People whose substance use serves important, often life-saving functions experience the substance as helpful; they are frequently in pre-action Motivational Stages of Change in which they are not ready or able to consider changing their behavior. Alternative solutions must often be discovered before people are ready, able and willing to change.
The New Model for Treating Addiction: Many Paths to Recovery
The new understanding of addiction described above suggests the need for integrative treatment in which addiction is treated concurrently with related physical health, mental health and social issues. The therapy combines psychodynamic, cognitive-behavioral, mindfulness, social and biological interventions in a way that is uniquely tailored to each person's needs.
The Harm Reduction frame starts therapy "wherever the person is" in terms of their goals, motivation and unique personal and cultural qualities. The full range of positive change goals are seen as valuable, at least as starting points for the recovery process: reduced harm, safer use, reduced use, moderation and abstinence.
A comprehensive initial assessment will determine an initial personalized treatment plan based on substance use severity, the psychobiosocial factors, multiple meanings and functions of the behavior, motivation to change, and insight.
Effective treatment has a primary focus on engagement and therapeutic alliance throughout the therapy. IHRP "starts where the person is" with empathy, respect and acceptance, because creating safety and support are seen as essential to the therapeutic project. Teaching self-management skills to address urges and difficult emotions is often essential. An ongoing assessment throughout treatment deepens both client and therapist awareness of the addiction severity and its meaning and functions. Exploring the client's ambivalence about change reveals the issues that need new solutions. As these issues are clarified, positive change goals around the substance use and these issues can be established. And, finally, a personalized plan for pursuing these positive changes can be developed collaboratively between client and therapist. The plan may include a variety of therapeutic modalities, lifestyle changes, health practices and medications depending on the client's needs.
What Are Your Thoughts?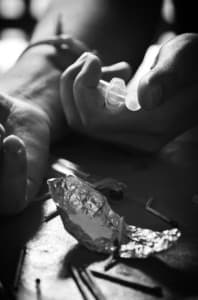 I invite readers to agree, disagree, challenge, critique and offer your own ideas about what should go into a new, hopeful and effective addiction treatment. I will reference these responses and respond in future posts to this site. -Andrew Tatarsky
Image Credit: Justin Hoch [CC BY 2.0], via Wikimedia Commons