How to Live with a Partner's Substance Use Disorder
We're going out on a limb to write this column, because our experience challenges the basic tenets of how a spouse is supposed to deal with a partner's substance use disorder.
For eight decades of the AA program's cultural dominance, those who love and support an addicted partner have been called enablers and codependent. Well-meaning friends suggest, "kick him out." Support groups advise "detach with love." There are indeed relationships where that might be necessary, especially if violence and abuse are involved, but we suspect there are many others where "detaching with love" is not possible, or even makes things worse.
First, a bit of context. To quote Dr. Andrew Tatarsky, the founder of Integrative Harm Reduction Psychotherapy, "We have all been victimized by negative traumatizing narratives about drug users (and I include alcohol in that definition) that saturate our culture. We need to change the narrative in ourselves and society at large. In families, it contributes to negative over-reactions of panic, anger, despair, family conflict, 'tough love', un-necessary punitive responses and other catastrophic outcomes."
Words like "enabler" and "co-dependent" are very much part of those traumatizing narratives. Dr. Carrie Wilkens slams them. She's the clinical director for the Center for Motivation and Change in New York, which uses evidence-based therapies. Speaking with journalist Maia Szalavitz, Dr. Wilkens said, "It's terrible and unethical. I hope we can all eradicate in next decade this completely useless phrase that I think has contributed to lots of people dying."
The Power of Connection
Far from 'detaching," new thinking suggests that addiction evolves, in part, because of flawed attachment and that those battling substance use actually need more connection than the rest of us.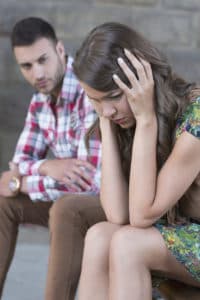 I experienced the power of that connection first-hand, when a few years ago, I relapsed after five and a half years of abstinence. Thankfully, the recurrence occurred when my partner Maureen was doing research and beginning to film a documentary on evidence-based addiction treatment. My relapse afforded us a real-time opportunity to test new treatments and the prevailing wisdom.
I now hand this column over to Maureen, to report her experience.
Maureen: If Mike had to drink again, well, his timing was perfect. Part of my research involved understanding a new approach called Community Reinforcement and Family Training (CRAFT). This model teaches loved ones not to detach with love, but in a sense, lean in, in a manner that promotes their partner's return to wellness, while maintaining your own mental health. In Mike's previous trip to rock bottom, he'd lost everything. Threatening to kick him out, or leave, or sever the bank account, or any other manner of punishment didn't work before. I knew I needed to try something else.
First, I had to re-frame his drinking – to not catastrophize it. I'd been with Mike coming up on five years. I'd come to value his many wonderful qualities and we'd built a remarkable and accomplished life together. I substituted "problem drinker," with a range of other possibilities that can strike a partner: heart disease, cancer, MS, diabetes. I know I'd support a partner with any of these serious physical conditions. Why not help him battle a serious mental health issue, which is what substance use is?
Whether he brought this on himself is a non-issue to me. Plenty of medical conditions involve a range of personal choice or responsibility. If I want to be with this person, I can either make this person feel bad or I can help make him feel better.
Positive Communication in Action
When he woke up from his first major night of drinking in almost six years, Mike was ready to move out. I was ready to implement my "7 Steps of Positive Communication," a key component of CRAFT. Being a nerd, I wrote them down. In bold, the steps.  Then, my response.
Be Brief. This must be a very difficult day for you.
Be positive. Fortunately, we are in a different time now and thanks to the research for our film, I know there are new treatments for alcohol use disorder and we can go and try them. 
Refer to specific behaviors. I saw you withdraw and isolate.
Label your Feelings. I was sad because your warmth and humor disappeared.
Offer an Understanding statement: I know the last thing you would ever want was to drink again. The motorcycle accident and ER visit really shook you up.
Accept partial responsibility: I know this is a chronic disorder, but I had become too smug about your recovery. I didn't realize the impact all this was having on you. That's incredible pressure to put on you.
Offer to help:I've found a doctor in Bellingham Washington who administers Vivitrol. That's the shot that helps diminish cravings for 30 days. Would you like to talk to him? We can go there on Monday if you'd like.
Now, I didn't just stand there and recite the page. The statements were delivered over the course of many conversations.
No doubt some would say, "you're just coddling, rewarding bad behavior." What's the endgame here? Do we want to stop the cycle of addiction, or perpetuate it? All the shaming, anger and frustration doesn't get people to stop using for long. If we can maintain trust and empathy, then we have a basis for supporting the substance user to stop using.
Lessons Learned
Mike got a Vivitrol injection, a long-acting version of the drug naltrexone that keeps cravings at bay for 30 days. He received the shot once a month for five months. He embarked upon a mindfulness meditation program and underwent trauma therapy. He's well again, but those first few weeks were rough.
Here's my takeaway (and some of it was learned from making mistakes):
The first few days, he was cranky and irritable, full of remorse and regret and self-condemnation. That's on top of the physical discomfort. I chose to delay important conversations until he felt better. Just like I never make an important decision when I'm cranky or feeling low.
People battling substance use disorders experience a disproportionate ratio of criticism over praise. Imagine if all you heard for years was what a jerk you were, or how you destroyed everything. I upped my praise and chose not to react to wet towels on the floor. Not fake praise. There was still plenty that was awesome about the man. I chose to focus on that.
I learned to validate Mike's fears and concerns, rather than argue him out of them. They were very real to him in those moments. Trying to reframe wouldn't help until he felt better. This would only lead to arguments. A sympathetic nod and smile with no words at all (hard for me!) can work wonders.
Lean in. Isolating is never good for someone battling substance use. Mike's ultimate fear was being alone and homeless again. My physical presence was comforting. We got out and did all the things he loved, like hiking in Lighthouse Park, an ancient rainforest in West Vancouver. We bolstered that part of his life that wasn't about drinking, reminding him of all the good.
Not my strong suit. Resist my impulse to "deconstruct why Mike drank again." Every fiber of my being wanted to have that conversation, but instead, we got on the Vancouver Island ferry and went to visit our grandchild. And didn't talk about it at all until later on the return ferry, when he was feeling better and less agitated. He actually began the conversation.
I relied on a few great friends who listen, don't advise and don't judge. I was scared and pissed and really worried. Just being able to voice my frustration elsewhere diminished the stress at home.
Mike: I am well. A combination of new therapies and approaches and support got me here. My relationship with Maureen is stronger because I feel I have an ally in battling a life-threatening disorder. We've both learned new skills, upped by empathy.
If you are locked in destructive patterns with a substance user you love, it might be worth a try.
Images Courtesy of iStock