How to Help Families Work Through the Shame of Addiction
When we are in shame, we don't see the big picture; we don't accurately think about our strengths and limitations. We just feel alone, exposed and deeply flawed. ~ Brené Brown
For families dealing with the shame of their child's substance use, isolation, embarrassment, and pain can quickly bubble to the surface. Friends are not sure what to say when you tell them the news. Extended family members may be full of unwarranted advice. People feel discomfort when thinking about substance misuse.
It is easy to feel judged. It is easy to feel like a bad parent, and like you have failed at the most important job a person could ever have. Questioning yourself and wondering how things could have gone so terribly wrong is common.
Shame and Stigma Abound
People are generally uncomfortable discussing substance use disorders. For a variety of reasons, it continues to be a taboo subject. Some parents are worried that their child could somehow "catch" the disease. For others who would prefer to stay in denial, it shines a light on their own substance misuse.
The shame and stigma of addiction affects family members and stifles the healing process. The anxiety and stress can feel overwhelming.
When I discovered my children were using substances, I felt the bitter sting of shame. I questioned my skills as a parent. Being a teacher added more to my embarrassment. I wondered how I could not have known what was going on in my own home when I was working with other families to prepare their kids for middle school. When I did finally reach out to family and friends about our family substance use problem, the reactions were interesting. Offers to help, some advice, but mainly support and concern came my way.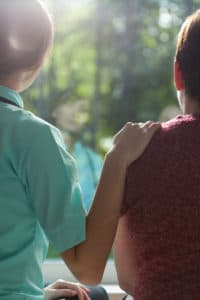 The support and concern were appreciated. However, I also felt the underlying message of "Watch who you tell this to." My circle of friends and relatives know my family experience, however I rarely share my family's situation with a casual acquaintance, which is understandable.
Recently I connected with a mom I'll call Cindy. Cindy lived in a small town and had two sons. She was a single mom and owned a business in town that provided well for her and her sons. As I spoke to Cindy, she told me her story about how her two sons had experimented with drugs and alcohol in high school. She had hoped it would be a passing phase. However, now they were in their twenties and both had moved on to opiates – one was addicted to heroin.
Cindy, of course, was devastated by her sons' use and feared for their safety. In addition, being a business owner in her small community, she didn't want other people knowing about her sons' issues. She did the best she could to hide the problem from friends, family, and other community members.
I finally began talking with Cindy who was extremely anxious and stressed about the problem with her sons. The substance use had been going on for years. I asked her who she had reached out to for help in the past. I was surprised to hear that she had not received any support at all. She had spent her energy trying to keep the substance use a secret. No wonder she was so stressed and anxious!
However, Cindy is not the only parent who has tried to shield their family from the judgement of others, rather than reaching out for help. Often families cover up the substance use when they don't want family and friends to know what is going on with their kids. They stay home from family get-togethers and limit their time with friends. They stay isolated at home, which just makes them feel worse.
Facing Down Our Feelings of Shame
For all of us, facing and accepting our feelings of shame allows us to move forward to a healthier place. Shame has deep roots, especially when you feel that you are wrong or bad. Recognizing our feelings of shame is the first step towards healing.
According to Psychology Today, when a person feels shame, they feel they are somehow wrong, defective, inadequate, not good enough, or not strong enough. For parents, feelings of shame can be devastating. They beat themselves up for what they did wrong while feeling overwhelmed and confused about what to do next.
I doubt there is parent alive, whether they have a child struggling with substances or not, who would not have done some things differently. That is part of being a parent and part of being human. Sometimes we do things well and sometimes we make mistakes.
There are many things that you can do to help yourself work through the shame of your child's substance use. It is essential that shame does not keep you stuck.
Here are three steps to overcoming shame:
First, forgive yourself for any past mistakes. Understand that you did the best you could at the time. Focus more on what you did well as a parent, rather than regretting what you could have done better.
Second, accept your present life and remind yourself that you have the strength to find the answers that will work for your family. Acknowledge your negative feelings, as you replace your feelings of shame with self-compassion. This new perspective will help you to heal. The positive shift in your thinking will move you forward so that you feel better as a person, and as a parent.
Third, find ways to break out of your isolation. While it takes courage to reach out for help, your efforts will be worth it. Your child will be better off and you will be able to have more peace of mind.
Remember: You're Not Alone
There are many parents who have experienced the same issues that you are feeling. Take a risk and find a few people who you trust to spend time with. You can join a support group with like-minded people, as well as connect with a therapist or a coach who is experienced with addiction to help you take action steps that will move you and your child forward to a better place.
Finally, remember there are a variety of solutions that have worked for those struggling with substance use. Your child is using substances for their own personal reasons. Every family is different. Look into all the options that are available to find the best fit for your situation.
Don't let shame hold you back from getting the support that can be essential during this stressful time.
Images Courtesy of iStock