How to have Necessary Conversations About Mental Health
Having conversations about mental health can initially seem daunting and impossible. However, once you feel informed in how to start a conversation, how to navigate the challenges that may arise from the conversation, how to embrace any 'awkwardness', and how to refer to professional resources if necessary, the conversation becomes more relaxed and accessible. Having these conversations can help people feel heard, valued, and worthy; in many cases, these real, honest conversations have the power to save lives.
This article will outline a few steps and elements that are key to having real, honest conversations around mental health and may help chip away at the initially daunting or uncomfortable elements of these types of conversations.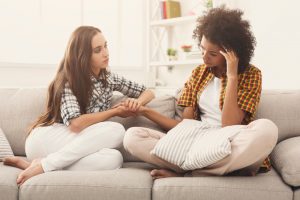 1: Set the stage: appropriate environment and safe space
Before even beginning a sensitive conversation, you must ensure that your surroundings are fitting and opportune. Choose a quiet area with minimal distractions so that you can be fully immersed and present in the conversation. Having privacy for this type of vulnerable conversation will help foster a safe space.
2: Start the conversation
Starting the conversation may seem awkward and challenging, however, keep in mind that being direct and honest is best, especially if you are concerned about someone and are checking in with them. Some one-liners — inspired by Seize the Awkward's campaign — to try out when starting the conversation include:
"This is awkward, but I'd like to know if you're really all right."
"I haven't heard you laugh in a while. Is everything OK?"
"I'm worried about you and would like to know what's up so I can help."
"Are you ok? I noticed you missed school a few times."
"I feel like something's up. Can you share it with me?"
"You know you can tell me anything. I won't judge."
Initiating conversations around mental health with your friends or loved-ones can be scary, but reaching out and checking in can make a significant difference and positive impact on their current mental health state.
3: Listen deeply
As you enter the conversation, make sure to listen deeply and tell the person that you care about them. Rather than treating the conversation as a "therapy session", let go of any urge to "fix" symptoms or give advice. Simply show that you care, give your undivided attention, and listen deeply to all that they have to say.
4: Do not shy away from difficult topics
Talking about suicide or depression or anxiety directly is more beneficial than trying to side-step around it. If you are concerned that your friend, peer, or loved-one may be considering suicide, ask them directly. As recommended by the American Foundation for Suicide Prevention, it's best to take this conversation seriously and assume that you are the only one reaching out and trying to check in.
5: Keep in mind these resources, and feel free to bring them up in your conversation:
No matter how awkward or uncomfortable the conversation may feel, realize that by following these tips and starting the conversations, you are creating a safe space for someone to share what they are feeling, leading to necessary next steps such as connecting with professional help or support.
_____
Photos Courtesy of Shutterstock