How Do You Know if You Have a Drinking Problem? Look at the Problems Alcohol is Causing in Your Life
It's often said, "If you think you have a drinking problem, you probably do." But what does that mean? In their excellent book, Treating Addiction: A Guide for Professionals (also helpful for consumers), by renowned addiction researcher William Miller, PhD, Emeritus Distinguished Professor of Psychology and Psychiatry,
University of New Mexico, and colleagues, people commonly balk when told they "have a drinking problem" or are given a label such as alcoholic. In fact, in 1980 "alcoholic" no longer existed as a formal diagnosis in the Diagnostic and Statistical Manual of Mental Disorders (DSM), used by professionals to formally diagnose mental health disorders.
For more information on the DSM, see Alcohol Use Disorder: A Comparison Between DSM-IV and DSM-5. The latest version, DSM-5, takes into account that substance use disorders fall on a continuum: mild, moderate, and severe.
Yet the stigmatizing and rather pejorative term "alcoholic" is still commonly used along with other colloquial terms like functioning alcoholic, dry drunk, and gray area drinker. Even though introducing yourself as an "alcoholic" has never been required at AA meetings, many people I work with are surprised to learn this. And the division of the National Institutes of Health that conducts research on the impact of alcohol use on human health and well-being – also the largest funder of alcohol research in the world – retains the name, National Institute on Alcohol Abuse and Alcoholism (my italics.)
Miller and colleagues note that, rather than focus on diagnostic labels, it's more important to understand how alcohol and drug use affects individuals' lives along with what they need and want to do about it. As I discovered in interviewing more than 200 people in long-term recovery (on average, 13 years) for Sober for Good, at some point they recognized the connection between drinking and problems in their lives.
Liz B., who never viewed herself as an "alcoholic," came to see that alcohol was the common denominator in all the problems she had, including making a fool of herself, worsening her stuttering, promiscuity and unprotected sex, not being able to let things go, picking fights, and volatility. An especially painful point came when her young son recorded her for a school project – when she heard it played back, she realized that her speech was slurred. Paul V.'s awakening came when he put it together that alcohol was connected to his diminishing circle of friends, distancing of family members, kidney problems, a drunk driving arrest, and bad grades.
The Myth of Denial
In the traditional disease model, denial is considered an integral part of "alcoholism" and a major obstacle to recovery.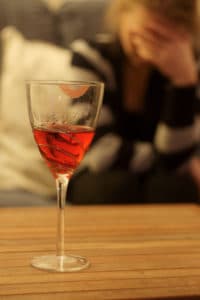 A recent article by a prominent physician stated, "Although the term 'denial' is not specifically used in the wording of the diagnostic criteria, it underlies the primary symptom described as drinking despite adverse consequences." He goes on to emphasize that individuals have different levels of denial, adding that "typically, the more severe the addiction, the stronger the denial." (I know of no evidence to support this.)
In fact, when asked the question, "Did you go through a period of time when you knew you had a serious drinking problem but couldn't or chose not to do anything about it?" nine out of 10 people in Sober for Good answered "yes." Of those who gave a time period, the average was more than six years. Moreover, many of them had loads of adverse consequences and severe alcohol use disorders. Note, too, that government surveys repeatedly show a large number of people perceive the need for treatment, but for various reasons do not receive it.
Certainly, the more people are told they are in denial, as sometimes happens in confrontational counseling situations, the more backed into a corner they feel and the more they act like they are in denial about their substance issues. A blog at Practical Recovery's website gives the following scenario of someone being interviewed by a confrontational professional:
You are asked, "Do you have any drinking problems?" You state, "No, I drink only a little, and only occasionally." The professional states, "But I understand that you have had serious problems." You respond, "No, I have not," The professional states, "I can see that you are exhibiting denial, which is the cardinal symptom of the disease of alcoholism, so you must be an alcoholic, and you need to go off to alcohol and drug rehab immediately," Unfortunately, you are now in a Catch-22, and may not easily be able to get out of it! *
Wake-Up Call Questions From People in Long-Term Recovery
The following questions were derived from responses given by interviewees for Sober for Good concerning warning signs that one might have a serious problem with alcohol. They are meant as food for thought and not for professional diagnosis.
Do you drink to get drunk — or at least to catch a buzz — every time?
Do you use alcohol as an escape from life and its problems?
Do you notice that you drink more than others?
Do you consistently drink more than you intended?
Do you feel that something is missing when you're faced with the thought of going a day without having a drink?
Are you a person who repeatedly has pain in your life that is caused by alcohol but you still continue to drink?
Do you ever feel like you would be more loving if you did not use alcohol?
Are you tired of regretting your actions?
Have you ever avoided taking a medication requiring that you not drink?
Do you have a huge hole in your spirit that you are trying to fill?
Do you sometimes have physical problems because of your drinking — like insomnia, night sweats, stomach pains, or nausea?
Do you ever feel, "I cannot drink alcohol successfully?"
Does alcohol give you courage to say outrageous things?
Do you depend on alcohol to help you relax, chill out, face problems, herald joy?
Does alcohol make your decisions instead of reason?
Do you sometimes feel that alcohol keeps you from "being present in your life?"
Do you ever drink even though you feel lousy because you drank the day before?
Do you use alcohol to avoid responsibility and uncomfortable feelings?
Is the desire for, procurement of, and consumption of alcohol a main focus of your life?
Does your desire for alcohol get in the way of your daily activities: work, childcare, eating properly?
Does drinking lead you to do things you wouldn't do sober, such as driving drunk, spending too much money in nightclubs, or putting drinking ahead of your responsibilities?
Do you drink because you feel you need to?
Has there been a decay in your value system as a result of your drinking?
If alcohol is not available, do you make it available?
Does it ever feel you are having a great love affair with alcohol?
*Reprinted with permission of Practical Recovery
Parts of this were adapted from SOBER FOR GOOD, © 2001 by Anne M. Fletcher. Reproduced by permission of Houghton Mifflin Harcourt. All rights reserved.
Images Courtesy of iStock