Elevated Wellbeing: Finding Inspiration and Bliss
In the fast-paced rhythm of our lives today, we may easily be sucked into routines that become repetitive and uninteresting. Regardless of what may be going on in our lives, we can all use more inspiration at times. It's important for our own wellbeing and self-care to feel empowered and inspired.
When we are at this elevated state, our sense of purpose rises and we feel more fulfilled and at peace overall. Whether you are going through a crisis right now, or you are recovering from a mental health challenge, or you are perfectly content with your life, explore the tips below for self-care ideas linked to finding greater inspiration and bliss within you –– and consequently greater wellbeing.
Believe in yourself
Even when it seems that you can't be inspired or motivated, maintaining confidence and belief in yourself is paramount. Under the right circumstances, inspiration finds everyone. Believe that you will be inspired, and embrace moments of spontaneity. It's important not to feel discouraged, as you experience varying levels of inspiration at different times in life; this is normal. As long as you believe in yourself and stay patient with yourself, your time of inspiration will come.
Look to others for sources of inspiration
Others' ideas, journeys, and perspectives can help guide you to more elevated heights. Watch TED talks online on topics that you find interesting, talk to people you meet about what inspires them, and explore the lives of people who you find interesting –– whether they are distant celebrities or your close loved-ones. Find pieces of other people's inspiration that you align with, and see if it sparks anything within you.
Put yourself in spaces that foster creativity, healing, and peace
Explore natural places around you: forests, creeks, hiking trails, beaches, grassy fields… immersing yourself in nature will improve your mood, increase your ability to focus, increase your energy levels, reduce stress, and even accelerate recovery from illness (https://www.dec.ny.gov/lands/90720.html). Nature will make you healthier and calmer, and therefore it will allow you to cultivate your highest level of inspiration.
Take a break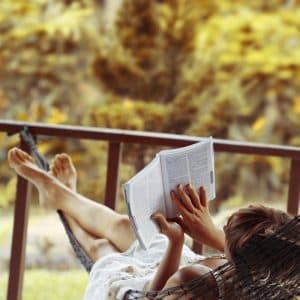 Realize that there will be days of lower inspiration. On these days, it's OK to take a break and wear your PJ's and just relax. Let your mind refocus and refuel. Taking breaks will not hinder you from achieving goals or checkpoints that you have set for yourself; on the contrary, breaks will replenish your energy and allow you to come back ready to thrive.
Read
Reading can introduce you to a host of new ideas and fresh inspiration. From reading a cookbook to mix in some new food recipes into your life, to reading about new forms of self-care to introduce such as painting or journaling, there are a host of new and refreshing ideas –– readily available in books, magazines, and articles –– that can be introduced into your lifestyle.
Inspiration can be found in places you least expect, and it can have significant positive impact on your health and wellbeing. Try to implement the tips above while searching for your own unique inspiration and lifestyle bliss.
______
Photos Courtesy of Shutterstock