Drinking and the Stigma of Blaming Sexual Assault on the Victim
When Mental Health Professionals Blame Sexual Assault on Substance Use…
"Well, it never would have happened if you hadn't been drinking," said Caitlin's therapist, shaking her head.
Caitlin has just disclosed that after happy hour with her co-workers, she had called a cab to go home.  Instead of taking her to her place in the suburbs, the cab driver took an exit off the highway and drove down a long, deserted road.
"This isn't the way to my house," Caitlin said, and she heard the sounds of the car doors automatically locking.
He pulled over and proceeded to force her to perform oral sex on him.  Once he was "done," he drove her home to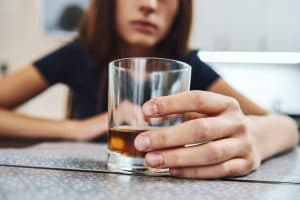 the address she had given him when she got in, assuming this would be just an ordinary cab ride.  As he pulled into the driveway of the house where she lived with her long term boyfriend and two cats, he said, "I know where you live.  If you try to report this, I'll come looking for you."
"It's Not The Rapist's Fault.  It's Your Drinking!"
It's a story I've heard more times that I can count.  Women (sometimes straight men, but usually women or gay or trans people), who were sexually assaulted, tell a counselor.  They expect to get support, but find that their drinking (or using), not the rapist, is what gets blamed.
A woman in an online support group told us her story:
"'Do you ever consider that your reckless behavior while getting intoxicated could have been a factor for your assaults?'" my therapist asked me, wagging her finger in my face. My response: Did you ever think that your 'help' causes more harm?' and I walked right out."
We agreed that she was a lucky one.  She walked out before more damage could be done.
The many more women who continued to see mental health professionals who blamed their drinking for any history of sexual assault or abuse came out more traumatized than after the original incident.  Most decided not to report it to the police, having determined that they, not the rapist, were at fault.
Instead of being referred to specialized sexual assault counseling, most were referred to Alcoholics Anonymous or drug and alcohol counseling.  One was even sent to an inpatient rehab where she was forced to call herself an "alcoholic," even though she had had no previous issue with her drinking.  The evidence?  She'd been raped one night after a college party by a guy who had offered to walk her home.
What are these therapists thinking?
This was the short version of the question I posed to a group of therapists who specialize in substance use issues in the process of writing this article.
"We have to get our clients to take responsibility for their actions," was the response that came back, in a variety of forms.  Many stressed that their job was to help clients stop behavior that put them in dangerous situations.
Jeremy Frank, PhD, a psychologist and certified drug and alcohol counselor practicing in Philadelphia, spoke out with a different message, however.  "When someone is victimized, they are victimized regardless of how they may have been vulnerable due to their drug and alcohol decisions.  You are more legally liable for pricking a hemopheliac with a needle, not less liable because they are more likely to bleed. There's legal precedent there."
Still, the theme of "making better choices" kept coming up.
Until Laura Chupack, CADC, who is based in Los Angeles, wrote the group:
"What I'd like to add for the men who blame the victim and even those who think they do not do this is that rape is a VIOLENT CRIME.
If a man beats a woman with a baseball bat, would you blame her if she happened to be drinking right before the beating?  Of course not. 
In addition to the daily fear of walking through a parking lot, a campus, or down any street, a victim of the most prevalent violent crime known as rape is now afraid of this blame-based (drinking, what she was wearing, why she was alone in that park late at night, etc, etc), violence happening again.
I hope the next time a woman has the courage to tell you about her assault, you take her pain seriously no matter what beverages she may have consumed or what she was wearing that day or any other excuse those who blame the woman have devised to keep us quiet, out of the spotlight, and apologizing for our lives."
Rape is Always A Crime
Rape is always a crime. There is no action a victim can take that justifies rape or abuse.
People with substance use issues often develop those problems in response to trauma, including sexual violation. Self-medication, dissociation, and other behaviors that can make us more vulnerable to predators often follow.  This does not make rape the victim's fault.
Feeling guilt over assault is more likely to make a victim's drinking or using worse, not better.
Alcohol and drug counselors are trained to see alcohol and drugs as the problem. A victim of sexual assault or abuse may find it more helpful to call a rape crisis line, see a therapist who specializes in sexual violence, and avoid counselors who are more likely to focus on the substance than on the crime that took place.
Anyone who has experienced trauma should interview a potential counselor or therapist to see if he or she is trained in trauma and abuse. It's best to interview several potential clinicians to find one who feels like a good fit.  If you feel shamed or blamed, walk out.
Stop Apologizing for Our Lives
A subtler form of victim blaming has been used to keep survivors from joining together and speaking out.  We have been called "attention seekers," accused of using our trauma as an "excuse" for drinking or using, or had our professional and personal credentials dismissed by those who would paint us as just another drunk girl.
Speaking out isn't for everyone, and it's a good idea to take time to heal and get the support you need.  But beware of anyone who tells you to quiet that inner voice that says, "This is my truth, and I will not be ashamed to tell it."
You may find that a whole silent army of women and other survivors are behind you, waiting for their stories to be told.
______
Photos Courtesy of Shutterstock