Does Smoking Really Protect Against COVID-19?
By now you may have learned that lung conditions such as chronic obstructive pulmonary disease (COPD), asthma, and pulmonary fibrosis raise the risk of severe COVID-19 complications. Since cigarette smoking increases the likelihood that someone may suffer from these conditions, you might think smokers would be overly represented among those admitted to hospitals for COVID-19. Oddly, though, data obtained from China suggest that smokers were less represented among hospital admissions for COVID-19 during the country's pandemic peak than non-smokers. What's more, additional data from France suggested smokers appeared less likely to test positive for SARS-CoV2 than non-smokers during that country's peak coronavirus outbreak.
What's going on here? How on earth could a behavior known to have dire health consequences not be positively associated with increased hospital admissions for COVID-19, especially if the very health consequences of this behavior raise the risk of conditions that bode for worse COVID-19 outcomes? Below, a closer look at the puzzling evidence.
What exactly did the science say?
The Chinese study, spearheaded by researcher Konstantinos Farsalinos, pooled 13 studies investigating the clinical characteristics and smoking status of nearly 6,000 hospitalized COVID-19 patients. Among all studies the prevalence of smoking among those hospitalized for COVID-19 ranged from 1.4% to 12.6%. This pales in comparison to the prevalence of smoking in the general population in China, which Farsalinos et al. note is 26.6% of all inhabitants—with a substantially larger number of males (just over half of all Chinese men) being daily smokers relative to women (only 2.1% of whom smoke daily).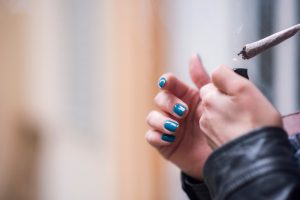 "This preliminary analysis, assuming that the reported data are accurate, does not support the argument that current smoking is a risk factor for hospitalization for COVID-19," Farsalinos and his colleagues stated in an as-yet-unpublished paper posted online in April of 2020.
The French study, led by researcher Makoto Miraya, assessed smoking status and COVID-19 symptom severity among a group of 343 people hospitalized due to the virus in medical wards at the APHP Pitié-Salpêtrière hospital as well as a group of 139 individuals seeking outpatient treatment for the virus from the same hospital. The median age of the 343 inpatients was 65 for women (of whom there were 137 total) and 66 for men (of whom there were 206). Among the outpatients, the median age was lower: 43 among the 62 male outpatients studied and 44 among the 77 outpatient women studied.
Smokers make up approximately 25.4% of the population in France, with a slim gender difference in smoking habits: 28.2% of men and 22.9% of women in the general French population are estimated to smoke on a daily basis, as Miraya et al. point out. So the researchers were surprised to find that, among hospital frequenters (both inpatient and outpatient), the prevalence of smoking was only 5.3%, with a barely existent difference between genders (5.1% of men and 5.4% of women seeking COVID-19 care smoked daily).
This data, Miraya and colleagues stated in their study, "strongly suggests that current smokers have a very much lower probability of developing symptomatic or severe SARS-CoV-2 infection as compared to the general population." In fact, Miraya et al. went so far as to suggest that smoking seemed to have a protective effect against more severe coronavirus complications.
But wait, there's more…
Another French clinical study, led by Arnaud Fontanet at the Institut Pasteur, observed a similar pattern among inhabitants of Oise, France, which was significantly hit by COVID-19 right after the dawn of 2020. The researchers took blood samples from 661 children and adults, and compared the presence of anti-SARS-CoV-2 antibodies (used to determine which participants had come down with COVID-19) with self-reported smoking status as well as symptom severity and symptom type. Overall, 25.9% of the study sample tested positive for antibodies. But when Fontanet's team compared smokers to non-smokers, a striking difference arose: only 7.2% of smokers displayed anti-SARS-CoV-2 antibodies in their blood, compared to 28% of non-smokers, leading Fontanet et al. to conclude that smokers were far less likely to have become infected by the coronavirus relative to their cigarette-abstaining neighbors.
Farsalinos (the author of the Chinese study) was also careful to point out in his paper that these curious trends are beginning to crop up in data on COVID-19 cases in the United States. According to "recent data recently released from the US CDC," Farsalinos and his colleagues wrote, "of 7162 patients in the US, only 1.3% were current smokers. Low smoking prevalence was also observed among hospitalized non-ICU (2.1%) and ICU cases (1.1%), while the population smoking prevalence in the US is 13.8%."
Does this really mean smoking lowers one's risk of coronavirus infection?
Miraya's team (authors of the French study) made sense of the lower proportions of smokers relative to non-smokers among more severe COVID-19 cases by theorizing that nicotine, one of several ingredients in cigarettes, might modulate the activity of an enzyme (ACE2, or angiotensin converting enzyme 2) known to facilitate the entry of SARS-CoV2 into cells.
Under normal circumstances, ACE2 helps regulate blood pressure, kidney, heart, and lung function by promoting blood vessel dilation. ACE2 is also known to protect against lung failure. Coronaviruses target the portion of ACE2 sticking out of cells called the ACE2 receptor, using these receptors, effectively, as "doors" into a cell, then pulling the ACE2 receptor inside the cell with it. (Biomedical researcher Josef Penninger has an excellent and easy to understand explanation of this in a recent episode of the podcast Naked Genetics, if you'd like further details.) As a result, SARS-CoV2 hijacks cells and eliminates key players in the body's ability to regulate crucial circulatory functions.
If in fact nicotine alters the total number of ACE2 enzymes populating various cells throughout a smoker's body (or the size and shape of their receptors), SARS-CoV2 may have a harder time latching onto and infecting cells as a result, Mirarya et al. propose. This might explain the lower proportion of smokers relative to non-smokers admitted to hospitals for COVID-19 or experiencing more severe symptoms.
Not so fast
Nicotine may potentially offer some protection against initial coronavirus infection by modulating the expression of the ACE2 enzyme and receptor, which coronaviruses hijack to enter and infect cells—that is, if Miraya et al.'s theory is correct (further proof is needed). But other data suggest that smokers who do end up getting infected by the novel coronavirus may be more likely to have worse outcomes than non-smokers.
Consider a recent systematic review by epidemiologists Constantine Vardavas and Katerina Nikitara that found "higher percentages of current and former smokers among patients that needed ICU support, mechanical ventilation or who had died, and a higher percentage of smokers among the severe cases." According to their analysis of five studies examining symptom severity and smoking status, current and former smokers were also "1.4 times more likely to have severe symptoms of COVID-19 and approximately 2.4 times more likely to be admitted to an ICU, need mechanical ventilation or die compared to non-smokers."
Miraya et al. argue that the worsening of smokers' COVID19 symptoms upon hospital admissions found by other studies may have more to do with the "rebound effect" of ACE2 receptor expression that occurs when smokers are admitted to hospitals and are required to cease smoking. But the fact that former smokers also have poorer outcomes post-hospitalization would seem to dispute this.
Hypertension researcher Patricia Gallagher offers another explanation of the worsened symptoms post-hospitalization (in the same Naked Genetics podcast episode mentioned above): She acknowledges that having fewer ACE2 receptors may lower one's risk of coronavirus infection, but underscores that if infection does occur, less ACE2 bodes for far graver outcomes, given ACE2's role in reducing inflammation and promoting lung health.
We also need to take a closer look at the data gathered by the aforementioned studies that found smokers to be less likely to require hospitalization for COVID-19 or seek outpatient treatment. To be considered "a smoker" a participant had to be actively smoking at the time of seeking treatment for COVID-19. "Former smokers" were not included in this category. So the lifelong effects of smoking on COVID-19 outcomes wasn't considered among smokers' COVID-19 outcomes. Former smokers, who may be at higher risk of worse COVID-19 outcomes based on the damage done to their bodies from years of smoking, were grouped among the non-smokers in the above studies. Thus they may have negatively skewed the apparent outcomes of the non-smoking groups.
Furthermore, hospital admissions and treatment seeking alone are by no means the most definitive measures of the relationship between COVID-19 symptoms or outcomes and smoking status. Not everyone who tests positive for COVID-19—and not everyone who experiences symptoms—will make it to a hospital or treatment center, regardless of how severe their symptoms are. To better clarify the relationship between COVID-19 and smoking status, we need more data on whether individuals who have died from COVID-19 (outside of hospitals) or experience symptoms without seeking treatment are current or former smokers. Sure, nicotine could be the independent variable, influencing the likelihood of coronavirus infection. But one could also postulate that smokers, relative to non-smokers, may be less inclined to seek help from hospitals or treatment centers (or to seek testing) and that this explains their relatively lower proportion among folks obtaining treatment. In fact, since smokers regularly experience symptoms like loss of taste and smell, coughing, and constrained breathing, they may not recognize the signs and symptoms of COVID-19 as anything out of the ordinary, and thus not seek medical attention.
The strongest evidence we have
All hypothesizing aside, here's what we do know about cigarette smoking—and why it's definitively not a healthy choice: According to the Centers for Disease Control and Prevention, Smoking is the leading cause of preventable death worldwide, killing over seven million people across the globe each year. Just under 500,000 people die each year in the United States alone due to cigarette smoking, including 41,000 killed by complications related to inhaling secondhand smoke. Smoking causes a slew of diseases on par with or worse than COVID-19, including myriad cancers, heart disease, diabetes, COPD, chronic bronchitis, emphysema, tuberculosis and stroke. Smoking also impairs immune system function, which itself increases risk of infection—not just from the coronavirus but from a range of pathogens. Among men, smoking also interferes with the ability to maintain an erection. Women's sexual arousal is also significantly negatively impacted by smoking.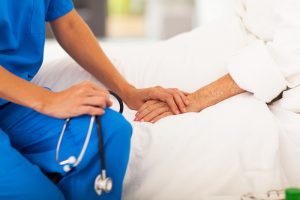 What's more, we know that the benefits of quitting smoking far outweigh any theoretical protective effects of starting or continuing to smoke against coronavirus infection. Among them: improved immunity, lowered cancer risk, improved circulation and blood pressure, clearer skin, lower cholesterol, and better control over blood sugar and insulin.
Simply put, even if there is a curious crop of data suggesting smokers aren't being admitted to hospitals, seeking treatment, or testing positive for COVID-19 as frequently as non-smokers, these findings by no means confirm that smoking protects against coronavirus infection, nor should they be considered as a means to justify continued smoking or take it up. The data could be erroneous (false positives are a hallmark of new research, which is why replication is required before scientists conclude that their hypotheses are correct). And the consequences of continuing to or starting to smoke are far, far graver than reducing or eliminating cigarette consumption.