Deconstructing the Complicated Relationship Between Eating Disorders and Exercise Addiction
The relationship between exercise addiction and eating disorders is complicated. Some mental health experts believe exercise addiction is nothing more than another iteration of an eating disorder. Others believe it's a separate entity in and of itself.
Laypeople often misconstrue the two, as well, not understanding that they can be two distinct but often overlapping experiences. Exercise addiction and eating disorders can and often do interact with one another, but there are many instances where they occur in the other's absence.
Defining Primary and Secondary Exercise Addiction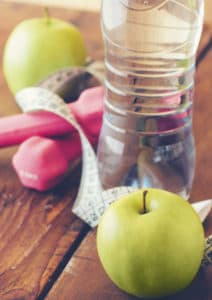 In exercise addiction literature, you'll often come across the terms primary and secondary exercise addiction. The former is used in reference to describe the extreme, physically and emotionally damaging pursuit of exercise with the goal of relentlessly perfecting performance, constantly "chasing" the endorphin highs derived from physical exertion, and/or tirelessly trying to stay in motion so as to avoid uncomfortable feelings.
Primary exercise addiction is not directly related to controlling shape, size, burning calories, or incinerating fat (even if these latter outcomes are byproducts of the behavior).
Secondary exercise addiction, on the other hand, refers to the use of exercise as one of several components or symptoms of an eating disorder. That is to say, in secondary exercise addiction, obsessive and overzealous physical activity is used to aid and abet an eating disorder by burning calories, serving as an alternative means of purging, or controlling size and shape. The urge to exercise at an excessive level derives not from a desire to enhance performance or fitness, but to control one's physical appearance, compensate for intake of food, and, in many cases, achieve an ever-elusive state of "thinner."
Primary and secondary exercise addiction have different prevalence rates among different populations. Extreme endurance athletes for instance, may have higher rates of primary addiction (likely because in order to fuel their performance and achieve the desired level of physical exertion they must eat more). However, this does not mean that primary exercise addicts are immune from disordered eating behavior.
Dissecting Recovery Information
Equally important to note is that not all eating disorders involve obsessive physical activity. However, when the two co-occur, the consequences and degree of suffering tend to be far higher than if exercise addiction occurs in the absence of an eating disorder or vice versa. As an example of this, a team of researchers lead by University of Birmingham's Diane Bamber, Ph.D., found that women who met the criteria for eating disorders and exercise addiction all at once had notably higher levels of anxiety, were more likely to report social dysfunction, and had a higher prevalence of depression than women who only met the criteria for exercise addiction.
Complicating the relationship between exercise and eating disorders even further is a study by exercise addiction researcher Heather Hausneblas, Ph.D., and colleagues at the University of Florida, Gainesville, finding that in some cases exercise can alleviate eating disorder symptoms and contribute to recovery.
Complicating the relationship between exercise and eating disorders even further is a study by exercise addiction researcher Heather Hausneblas, Ph.D., and colleagues at the University of Florida, Gainesville, finding that in some cases exercise can alleviate eating disorder symptoms and contribute to recovery.-Katherine Schreiber
Provided it can be done in moderation and that the exerciser in question is at a medically stable weight, exercise may thus be a helpful tool for folks struggling with eating disorders to reduce the degree of havoc they wreak on their bodies.
Because of the close relationship between exercise addiction and eating disorders, it's critical, when someone recovers from an eating disorder, to observe how their relationship to exercise changes. For instance, perhaps someone improves on measures of obsessively monitoring their weight and counting how many calories they consume. If this person takes up exercise or increases the intensity and frequency of a former exercise regimen, it would be important for that individual (as well as his or her treatment team) to keep an eye on whether the obsessiveness with which they tracked their weight and calories consumed cropped up again in their pursuit of fitness goals, the schedule of their workout, and the distress they experienced in the event their routine was disrupted.
It would also be important in observing someone who is attempting to "recover" from exercise addiction (that is to say: reestablish their relationship with physical activity such that it is not dominating their life and interfering with their mental and physical health) to monitor whether the attitudes this individual holds towards exercise do not transfer over to attitudes and behaviors surrounding food. If someone were to lessen their symptoms of exercise addiction it would be important to be aware, also, of whether they suddenly started becoming more obsessive and anxious about their food intake, physical appearance, or other weight and body image related concerns.
Transfer Addiction and Appropriate Interventions
Research remains to be conducted clarifying the likelihood of such a transfer addiction. But since swapping one addiction for another can and does happen in all types of recovery situations, it is certainly possible that, even if someone initially struggled with primary exercise addiction and was not concerned about their weight or shape throughout its course, they may channel their prior obsessiveness and overzealousness towards diet or appearance.
Further research into appropriate treatments and interventions for exercise addiction are necessary, irrespective of whether it does or does not co-occur with an eating disorder. Such treatments need to address the underlying issues giving rise the obsessiveness and self-abnegation inherent in both eating disorders and exercise addiction (as well as addressing any underlying personality pathologies or co-occurring issues that may be fueling the overzealous pursuit of physical activity, dieting, or both).
Images Courtesy of iStock